Introduction
Attabad Lake is a stunning lake Situated at the foot of the majestic Himalayas, in the Hunza Valley in Gilgit-Baltistan region of Pakistan. The lake originated when a major landslide due to an earthquake affected the region. The lake covers around 8 square miles and has a length of almost 16 miles. This lake is a stunning sight surrounded by the majestic mountains of Karakoram Range. The lake is a paradise for nature and adventure lovers.
Although the landslide caused some serious environmental issues and badly impacted the region. It has also brought some great economic opportunities for the country. Since its formation, it has slowly become one of the most visited tourist destinations in the region.
Top Places Nearby:
Rakaposhi Viewpoint:
Rakaposhi Viewpoint is a famous tourist destination located near Attabad Lake. The viewpoint presents you with breathtaking views of the Rakaposhi peak. The peak stands at an elevation of 7,790 meters (25,610 feet). The Rakaposhi peak is part of the Karakoram Mountain range. It is one of the most beautiful hilltops in the region.
The viewpoint is located approximately an hour's drive from Attabad Lake. You can go there by private car or local transport. It is the perfect spot for a picnic or a photo opportunity on the way to Attabad Lake. You are surely going to enjoy the point if you are a photographer or trekker.
The Rakaposhi Viewpoint Hotel, a modest hotel close to the viewpoint, provides cozy lodging and breathtaking views of the neighboring mountains.
All things considered; the Rakaposhi Viewpoint is a must-see location for anyone traveling through the Attabad Lake region. It is a genuinely unforgettable experience because of the breathtaking sights and calm atmosphere.
Hussaini Suspension Bridge:
Hussaini Suspension Bridge is an iconic and popular bridge located on the way to Attabad Lake. The bridge is in Hussaini village and crosses the Hunza River. It is an attractive spot for tourists and an important place for locals and is known for its spectacular views of the neighboring peaks.
The bridge is made of wooden planks and rope and is hanging over the river by a series of cables. It is a popular spot for photography and is also used by locals as a route to cross the river as it is the only way to go to the village. The bridge is one of the riskiest and most precarious bridges in the world. Visitors are advised to be cautious when crossing the bridge.
The Hussaini Suspension Bridge is located approximately a two-hour drive away from Attabad Lake and you can go there by rental car or local transport. It is the perfect destination for adventurous tourists looking for a unique and off-the-beaten-path experience.
Passu Cones:
Passu Cones are a sequence of distinguishing mountain peaks located near Attabad Lake. The cones are in Passu village and are popular with trekkers and landscape photographers.
The Passu Cones are formed by glacial corrosion, and are distinguished by their steep, tapering shape. The highest of the cones stands at an altitude of 7,480 meters. The area around the cones is home to multiple hiking trails, varying from easy walks to more tricky treks.
The Passu Cones are located nearly a one-hour drive away from Attabad Lake. Passu Cones are the perfect destination for tourists considering experiencing the beauty and splendor of the Karakoram Mountain range.
Khunjerab Pass:
Khunjerab Pass is also very close to Attabad Lake. The pass is situated on the border between Pakistan and China and is the highest border crossing in the world, at an elevation of 4,694 meters.
The Khunjerab Pass is a crucial carriage route, connecting Pakistan with China via the Karakoram Highway. It is also a trendy tourist destination, with travelers coming to see the spectacular mountain backdrop and to encounter the exclusive culture of the area.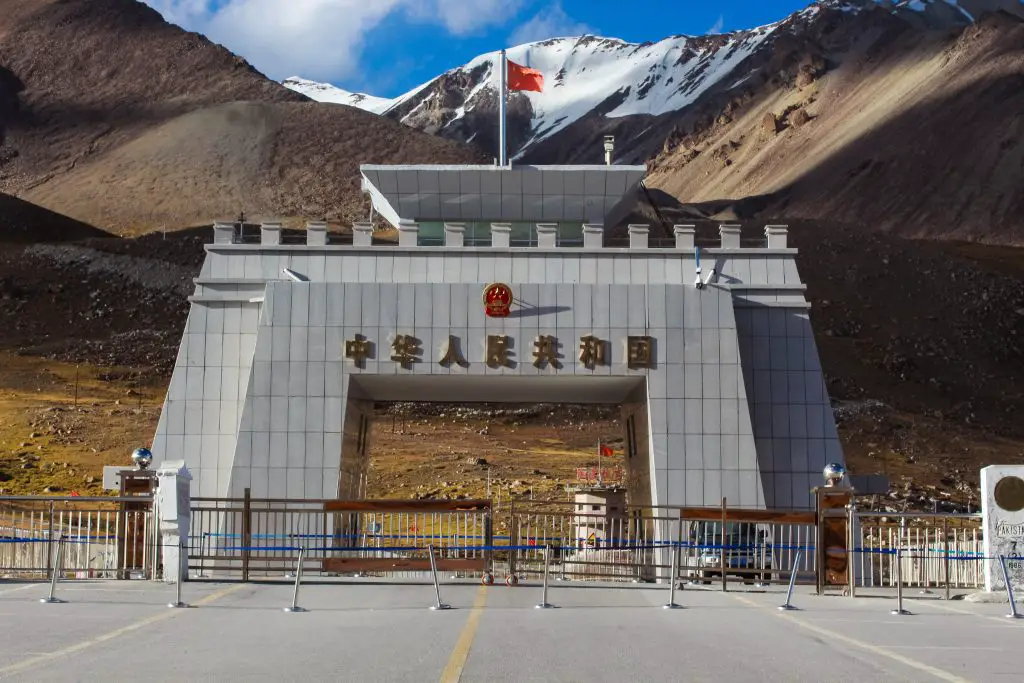 The pass is located just about a four-hour drive away from Attabad Lake and can be local transport. It is a suitable destination for tourists looking to experience the beauty and magnificence of the Karakoram Mountain range.
Popular Activities:
Boating:
Visitors to Attabad Lake can rent boats and explore the lake at their own pace, taking in the stunning views of the surrounding mountains. You can rent the boat and safety gear from the local vendors on the lakeshore…
It is important to remember that the lake can be quite chilly, even in the summer months, so I would recommend you dress warmly and bring a jacket or sweater. It is also important to follow safety regulations and to listen to the directives of the boat operator.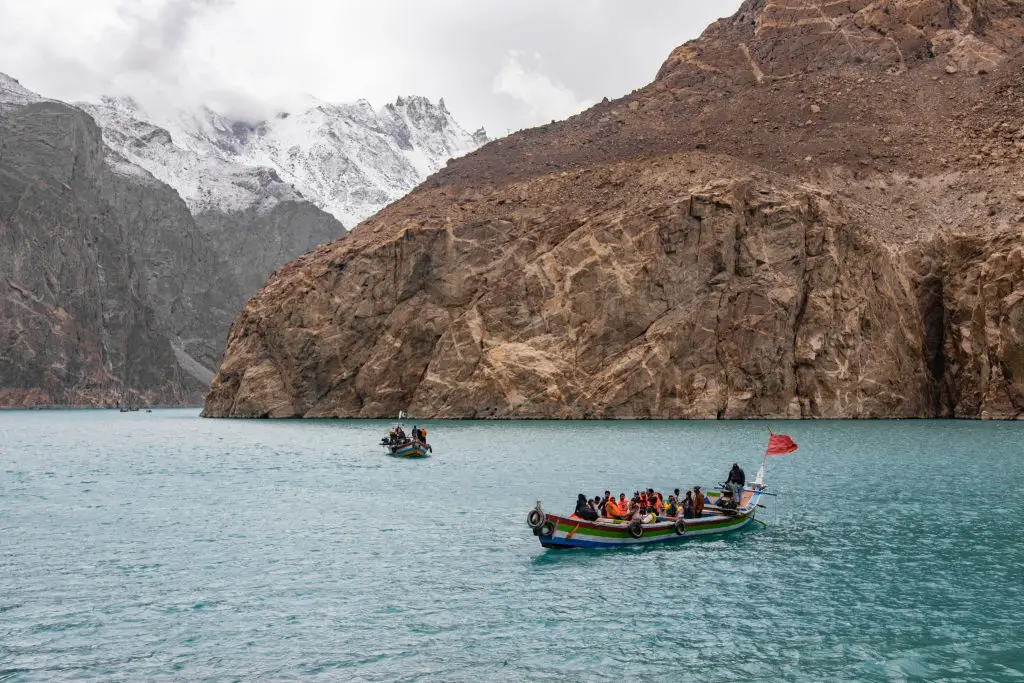 Fishing:
The local vendors around the lake also rent fishing gear. So, if you are someone who likes angling, give it a try at this stunning place. It is worth noting that a fishing license may be required to fish in the lake and follow local fishing regulations to stay out of trouble.
The best time for fishing at Attabad Lake is typically in the spring and fall, when the weather is cooler, and the lake is full of fish. You should also be actively careful to avoid any unpleasant incidents.
Hiking:
The lakeside and the nearby areas are home to a few hiking trails, ranging from easy walks to more challenging treks. Hiking is very popular among the tourists. It is a great way to experience the natural beauty of the area and to get some exercise.
There are several hiking trails to choose from in the Attabad Lake area. Some of them are the Passu Cones, the Rakaposhi Viewpoint, and the Khunjerab Pass. If you are a regular trekker, you should be prepared for your hike. You should bring proper footwear and clothing, carry plenty of water and snacks. You should also let someone know your planned route and expected return time.
So, if you are looking for a little break from city life, hiking is a fun and enjoyable pursuit that is sure to be a focal point of any visit to Attabad Lake. It is a great way to explore the splendor of the area and to get some workout in the great outdoors.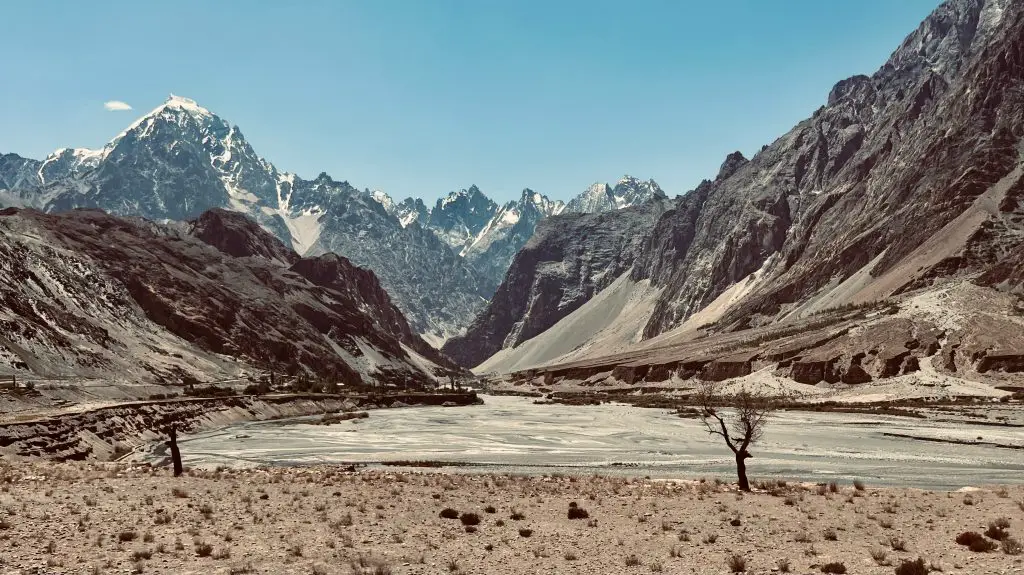 Where to Eat:
There are several dining options available near Attabad Lake. Here are a few ideas for places to eat while you're there:
Local restaurants:
Several local restaurants in the area offer a range of conventional Pakistani dishes, including kebabs, curries, and rice dishes. These restaurants are a great way to try authentic local cuisine and to get a taste of the local culture.
There are also several fast-food restaurants in the area, offering a range of global dishes such as burgers, pizzas, and sandwiches. These diners are a good option for visitors who are looking for more familiar food alternatives.
Street food:
Street food is a popular option in the lake area, with vendors selling a selection of snacks such as samosas, chaat, kebab and kulfi. Roads food is an excellent way to explore a variety of local flavors and to experience the local ethos.
Overall, there are all kinds of dining options available in the Attabad Lake area, ranging from local restaurants to fast-food chains and street food. Whatever your taste, you are sure to find something to suit your needs.
How to Get There:
Attabad Lake is in the Gilgit-Baltistan region of Pakistan, which is easily accessible from all the cities of Pakistan. There are two airports in Gilgit area, one international and one domestic. You can come here from any Pakistani city that has domestic airport. As for the road trip, I am giving details on how to go there from Major cities like Islamabad and Karachi.
From Islamabad:
The distance from Islamabad to Gilgit is about 520 miles, and the journey by road can take up to 30 hours, depending on the route you take and the mode of transportation. On your way to Attabad lake, you will pass some major cities including Abbottabad, Mansehra, and Chilas.
I will suggest you take the Karakoram Highway (KKH), the road that connects Pakistan to China. The KKH is a twisting mountain road with some extreme inclines and sharp turns, so be sure to drive carefully and take time off if necessary. The landscape along the KKH is magnificent, with snow-capped peaks, glaciers, and gorges, making it a perfect route for a road trip.
Alternatively, you can also take a flight from Islamabad to Gilgit and then hire a private car or take a local bus to travel to Attabad Lake. This way, you will get there faster, but it is going to cost you hella lot more.
From Karachi:
In order to go to Attabad lake from Karachi, you will have to go to Gilgit first, which is the largest city in the region and the entrance to Attabad Lake. Gilgit is about 930 miles, and the journey by road can take up to 50 hours, depending on the route and mode of transportation.
I would suggest you take the Indus Highway, which is a national highway that runs parallel to the Indus River. On your way to Gilgit you will pass cities like Hyderabad, Mirpurkhas, Nawabshah, Sukkur, and Ghotki. The Indus Highway is a well-paved road, and there are several rest stops and petrol stations along the way where you can take time off and refill.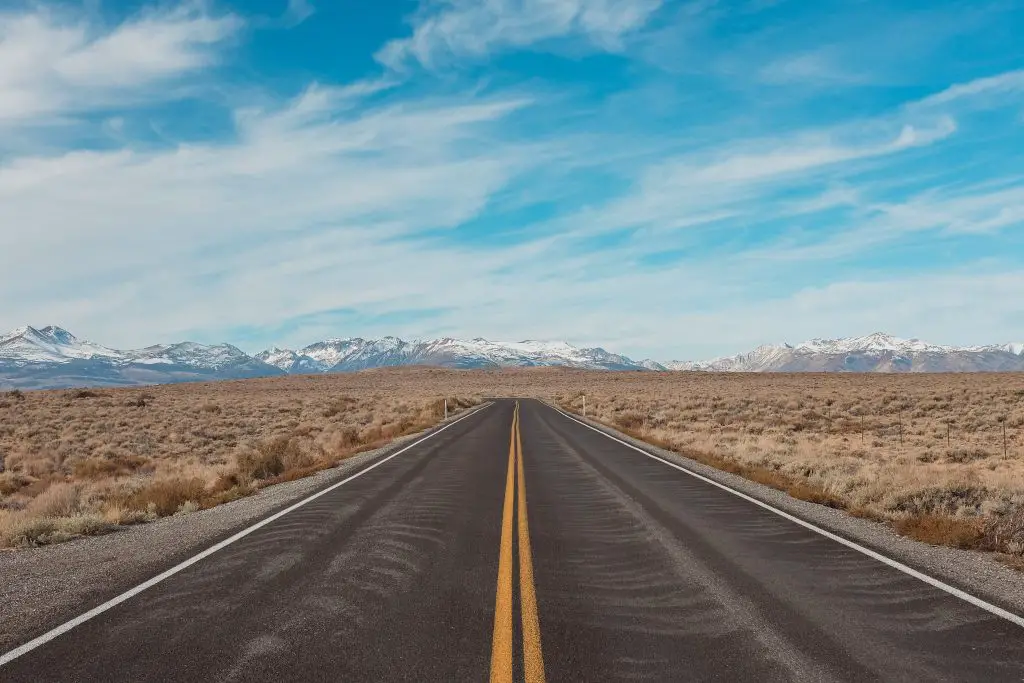 Once you reach Gilgit, you can take a local bus or hire a private car to travel to Attabad Lake, which is approximately 28 miles northwest of Gilgit. The ride from takes about an hour and a half by road and offers you unbelievable views of the Karakoram Mountains.
Where to Stay
As it is one of the most famous tourist spots in the locality, there are a few good options available to choose from. You can choose from different hotels, guest houses and cottages depending on your plan and group size.
If you are just here for a day, you can stay at a hotel. But if you want to stay here for a couple of days and roam around the area, you can stay at a guest house because they offer more basic accommodation at a lower price. If you are here for a long time, you can rent homes, as this will give you more privacy and space.
Restrictions:
As Pakistan had bad reputation regarding safety in the past, you may face some restrictions during your trip. These restrictions are enforced to ensure your safety, security, and to protect the environment. Here are a few potential restrictions that travelers may encounter:
Safety:
You may see some safety precautions in place to protect travelers, such as rules about wearing life jackets when boating or following designated hiking trails. You should try to follow these rules to ensure your own safety and the safety of others.
Security:
You will see some checkpoints or restrictions on your way to certain areas. You should cooperate with the officers during checking to avoid any unpleasant situation and to respect the security concerns of the local authorities.
Environmental:
As you already know, this lake is a result of an unfortunate earthquake and landslide, this has caused a lot of environmental issues in the nearby areas. So, you should follow these rules to ensure that the environment is preserved for future generations.
Conclusion:
Despite the challenges posed by the lake, the lake brought attention to the region which created economic opportunities to the region. The lake has become a popular tourist destination, with visitors coming to see the lake and the surrounding area. The lake is also being used as a source of hydropower, with several small hydropower plants being built along its shores.
We should remember that these places need to be preserved and protected. As we visit any tourist spot, it is our responsibility to take care of the environment and to leave as little impact as possible. This means practicing responsible tourism, disposing of litter properly, and respecting the local culture and traditions. By doing our part, we can help ensure that Attabad Lake and the surrounding region remain a stunning and thriving destination for generations to come.