Ooty, officially known as Udhagamandalam, is a popular hill station in the Nilgiri Hills of the Western Ghats of Tamil Nadu, India. This place is often called the queen of hill stations. Beautiful lakes, sweeping hills, and other natural wonders are some of the "Ooty visiting places". Ooty is famous for its rich cultural heritage and many tourist attractions.
Top 10 places to visit in Ooty.
Some popular tourist attractions of Ooty include:
Ooty Lake:
Ooty lake, also known as Udhagamandalam Lake, is an artificial lake in the heart of the city of Ooty. Johan Sullivan constructed the lake in 1824. The lake stretches over an area of 65 acres and is bordered by forested hills and hills of luxuriant greenery.
The lake is a popular spot for boating, with rowboats, pedal boats, and motorboats. It will cost you an additional 30 INR to bring a camera into this lake, and an additional 150 INR to bring a video camera.
Location: Nilgiris district, Tamil Nadu, India
Timing: 9:00 AM to 6:00 PM
Entry fees: 13 INR for Indians; 560 INR for Foreigners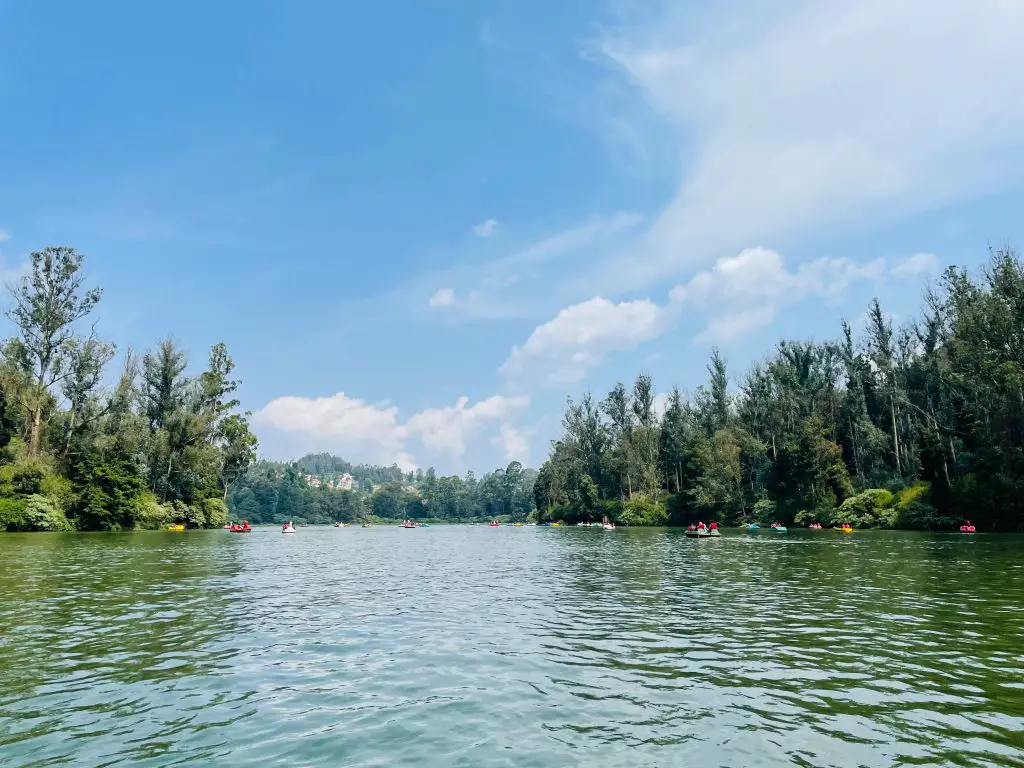 Ooty Rose Garden:
Ooty rose garden, also known as Government Rose Garden, is in the hill station of Ooty. This beautiful garden is spread over 10 acres and is home to over 20,000 varieties of roses. It is a must-visit destination for flowers and nature lovers.
Visitors to the Ooty Rose Garden can take a stroll through the garden and admire the many types of roses on display. You must pay an extra 50 INR and 100 INR, respectively, if you wish to enter the lake with a camera or video camera.
Location: Horticulture House, Eik Hill Road, Ooty, Tamil Nadu
Timing: 7:30 AM to 6:30 PM
Entry Fees: 15 INR for children; 30 INR for adults.
Doddabetta peak:
Doddabetta peak is the highest peak in the Nilgiri Mountains. The peak is 2,637 meters above sea level, which offers breathtaking views of the surrounding hills and valleys. Every traveler is drawn to the countryside by its unparalleled beauty. It draws tourists because of the mesmerizing views of the Coimbatore plains and Mysore Highlands.
The summit is flat, as a result, visitors can sit and enjoy the scenic view and relaxing ambiance. Sometimes, tourists move up to the summit to enjoy the sunrise and sunset. Bird watching is another popular activity here. Because of its majestic view, it is a popular spot for Indian movie shooting.
Location: 9 km away from the city center.
Timing: 8:00 AM to 7:00 PM
Entry fees: 10 INR per person; (15 INR extra for the camera and 60 INR extra for Video Camera)
Nilgiri Mountain Railway:
Nilgiri Mountain Railway is a UNESCO world heritage site. The 46 kilometers track through the Nilgiri hills is a popular tourist attraction in Ooty. The train journey offers stunning views of the Nilgiri Hills and the surrounding tea plantations.
The train ride is also popular for its moderate pace, which enables passengers to take in the sights and noises of the nearby hills. Don't pass up the opportunity to participate in an unforgettable experience that highlights the natural beauty and rich history of the area.
Botanical Gardens:
Botanical Garden is also known as the government botanical garden in Ooty. This picturesque garden is 55 hectares and home to a wide variety of plants and flowers. The garden is divided into several sections which include The Lower Garden, The Upper Garden, and The Conservatory Garden.
One of the main attractions of the Botanical Garden is the Fossil Tree. Most of the fossil trees are around 20 million years old. There is also an artificial lake where visitors can go for a boat ride.
Location: Vannarapettai, Ooty. Beside the Rose Garden
Opening Hours: 7:00 AM to 6:30 PM
Entry fee: 30 INR for adults, 15 INR for children. (Extra 50 INR for still cameras and 100 INR for video cameras)
St. Stephen's church:
St. Stephen's church, a historical church in Ooty, was built by the British in 1829. The church is a popular destination for visitors who wants to unveil the history and culture of the place.
If you are from Britain, then I would like to recommend a place for you because many British officials and soldiers are buried in the cemetery of the church.
Location: Club Road, Ooty.
Timing: 10:00 AM to 1:00 PM; 3:00 PM to 5:00 PM
Entry fee: No entry fee
Kalhatty Waterfalls:
Kalhatty waterfall is a popular destination for nature lovers. The falls are situated in a dense forest, which is home to a variety of birds and other wildlife. A tiny stream created the waterfall that cascades down from a height of around 300 feet as it winds through the deep forest.
The best time to visit the waterfall is during the monsoon season when the waterfall is in full flow. Visitors can enjoy a picnic here and sometimes travelers love to dip in the cool and refreshing water.
Location: Masinagundi Road, Ooty
Timing: 8 AM to 6 PM
Mudumalai Tiger Reserves:
The Mudumalai Tiger Reserves is a protected area located in the Nilgiri Hills. The park is a part of the Nilgiri Biosphere Reserve, which is a UNESCO World Heritage site. This historical park is famous for its rich biodiversity and is home to a wide variety of flora and fauna.
The park is particularly famous for its tiger, and India considers it an important tiger reserve in the world. Plenty of things to do in this park. Visitors can go for a guided walk, while bird watching is a popular activity. Visit the link to explore more.
Emerald lake Ooty:
The Emerald Lake is an artificial lake located 20km away from the Ooty city center. The beautiful hills and the lush green vegetation made the lake a must-visit destination in Ooty.
Visitors can go for a boat ride here, which is a popular activity on this lake. This picturesque lake is famous for its peaceful and serene atmosphere. Overall, Emerald Lake is a stunning and serene location that provides an opportunity to escape the city's bustle and re-establish a connection with nature.
Pykara Lake:
Pykara River formed the Pykhara lake, which is fed by several streams and is a major source of water for the surrounding area. The lake is famous for its beauty and surroundings because you can enjoy a scenic view of the hills from the lake.
This beautiful lake is a famous spot for picnics and boating. Visitors can take a leisurely walk in this lake, which is a popular activity in the lake. The best time to visit this lake is from October to May.
Location: Pykara, Ooty
Timing: 8:30 AM to 5:00 PM
Entry fee: 10 INR per person
All of these locations provide a wonderful opportunity to spend an enjoyable day in Ooty while being in midst of nature and lovely landscapes. Visitors can go for a stroll, a boat trip, a picnic, a safari, or go bird watching.