Thimphu, the capital of Bhutan, is situated in the western central part of the county. It is the country's largest city, 2,334 meters above sea level. This city is considered the political and economic centre of the country. The Bhutanese Royal family lives in the city. Clock Tower is the town's focal point. The Ridak River, often known as the Thimphu River, runs through Thimphu. Thimphu was declared the capital of the kingdom of Bhutan in 1961. Before that, the city became the capital in 1955, displacing the historic town of Punakha. Thimphu also goes by the name Thimbu and "Kingdom of Happiness." Let's check out the the top 10 places to visit in Thimphu
Top 10 attractions in Thimphu
Dochula Pass:
Dochula Crossing is a mountain pass in Bhutan located on the Punakha Road from Thimphu. The distance between Thimphu and Dochula pass is 30 kilometres. It is considered a historical and religious site in Thimphu. The best season to go here is winter since it provides a clear glimpse of the snow-capped mountains rising over the picturesque gorge.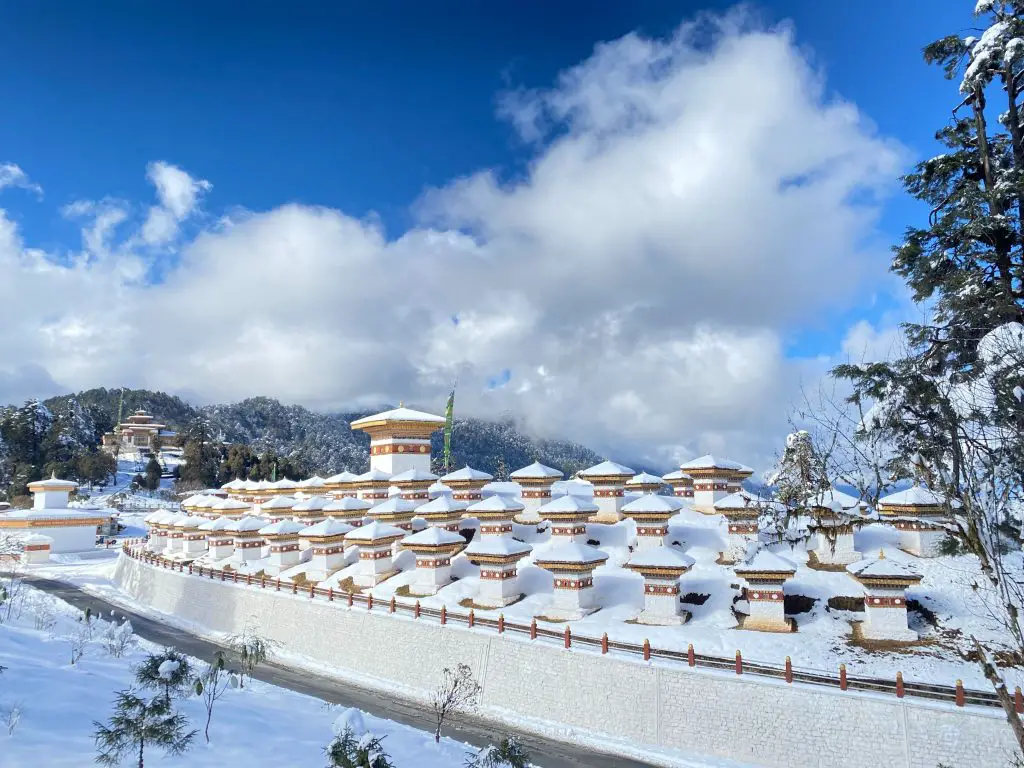 Thimphu Dzong:
The Throne room of the Bhutanese king is known as Thimphu Dzong, where the local name is Tashichho Dzong. It is the place from where the Council of Ministers operates. It is located on the banks of the Thimphu River. The Dzong has thirty Temples, chapels, and shrines surrounded by lovely gardens.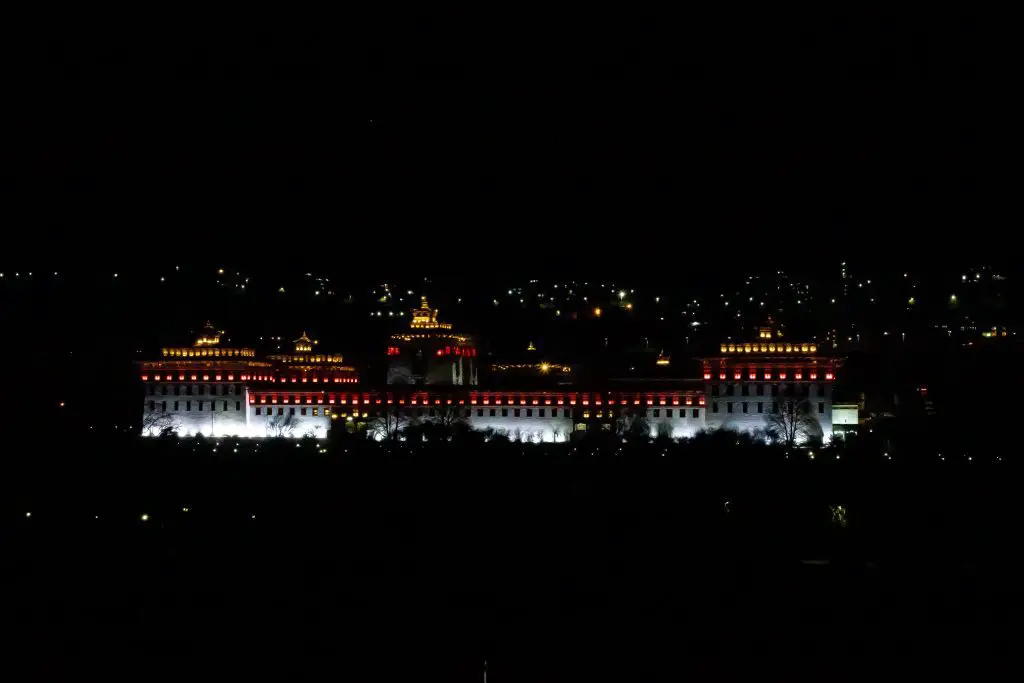 Clock tower square:
As I mentioned earlier, Clock tower square is the heart of Thimphu Valley. The Clock Tower Square got its name from the iconic clock tower, a gift from a Swiss friend of Bhutan's former monarch. Cafes, shops, and restaurants surround this renowned area.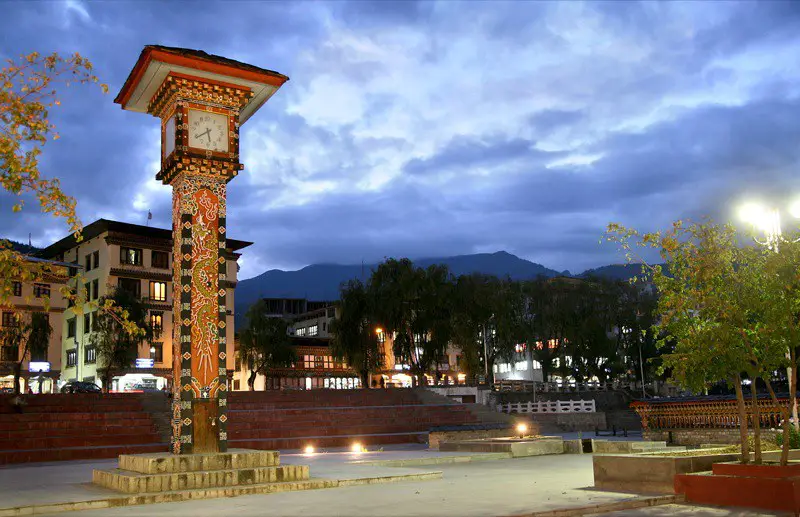 Buddha Dordenma:
The 169 feet statue of Shakyamuni Buddha is the largest statue of Buddha in the world. The statue is gold-gilded and composed of bronze. The statue is made of bronze and is gold-gilded, which symbolizes indestructibility. It is on the top of a hill in Kuensel phodrang Nature Park and offers views of the Thimphu Valley's southern entrance.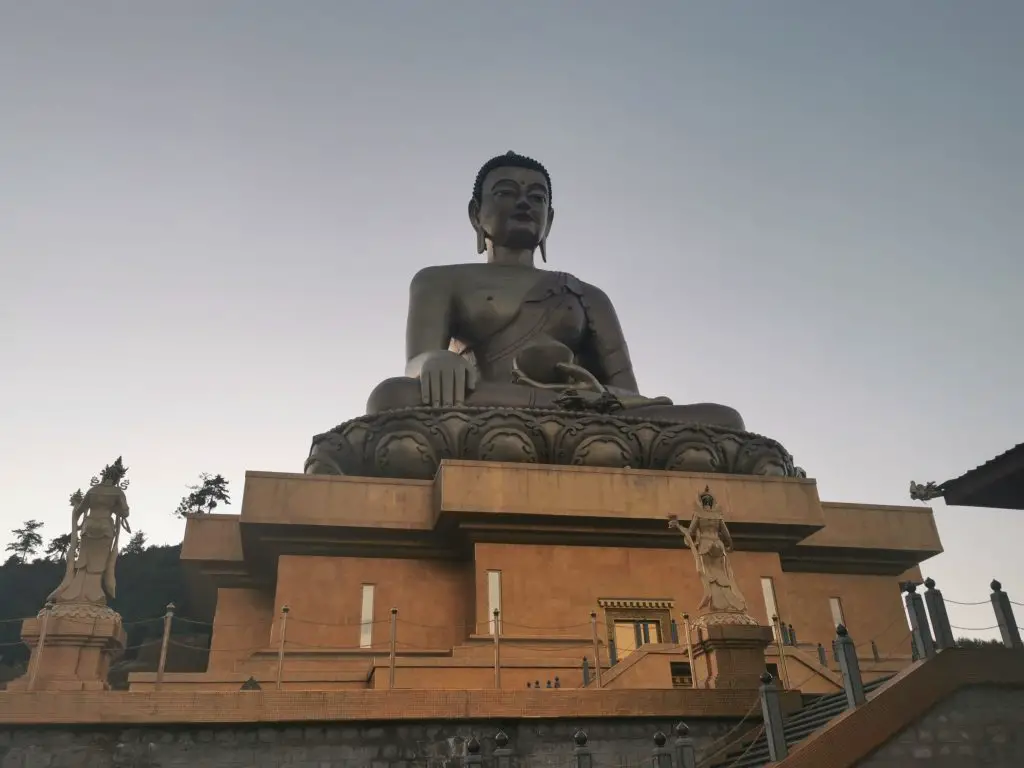 Memorial Chorten:
Memorial Chorten, one of Bhutan's most iconic religious landmarks, is also popular byt the name Thimphu Chorten. It is located in the southern central part of Thimphu City. The Memorial Chorten draws the attraction of visitors from all around the world with its eye-catching architecture.
Motithang Takin Preserve:
Takin, the national animal of Bhutan, is preserved in a protective area named Motithang Takin preserve. It is located in Motithang district, Thimphu. You can see various exotic birds and animals that roam the area freely and in their native habitats if you take a half an hour walk here. The best time to observe them is in the early morning when they congregate close to the fence to eat.
Bhutan post office headquarters:
Bhutan post office headquarter the home of the world's largest Photo book and upholds the ancient tradition of mailing out postcards. The place is in Changlam square, a five-minute walk from the bus parking area of Thimphu. From here, you can buy antique coins and personalized stamps.
National folk Heritage Museum:
The museum started its journey in 2001 to preserve and conserve indigenous Bhutanese values. If anyone wants to know the rustic and indigenous lifestyle of Bhutanese, this museum is a must-visit place. It is a 15 minutes' walk from the iconic Clock Tower. To know more about the place, visit their official site.
National Library and archives:
Bhutan's national library and archives were established in 1967 to preserve and promote Bhutan's rich culture and religious history. Old picture frames on the interior walls give the library a beautiful appearance. It is close to Thimphu National Folk Heritage Museum. Visit their website to learn more.
Royal textile academy:
The Royal Textile Academy of Bhutan was established in 2005 to conserve the traditional craft of textile weaving and is housed in a stunning turret in Thimphu. This academy seeks to both promote and preserve this art.
This academy has an entry fee and remain close on Sunday. Bhutanese fees are 10 Nu, 25 Nu for SAARC nationals, and 150 Nu for other nationals. Visit Royal textile academy to learn more.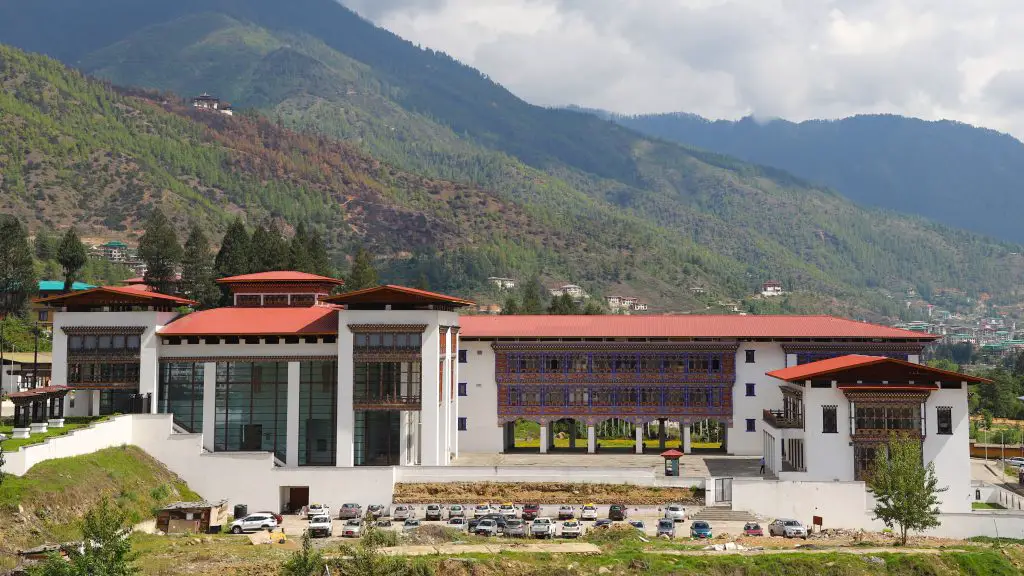 When to Visit
Winter is an ideal time for Trekking and adventure sports. You can visit Thimphu throughout the year, but if you want the best season, Spring is the right choice when the valley becomes alive with blooming flowers. In terms of month, September is the perfect season to visit this city of extraordinary beauty.
Winter is the best season for you if you like the most incredible weather. This season, snowfall occurs, which is magnificent because the hills blanket themselves with white snow.
Reaching Thimphu
Paro airport is the only international airport in Bhutan. As an international traveller, you can enter Bhutan using this airport. From there you can go to Thimphu by bus or taxi.
If you are from India, the easiest way to go to Thimphu is by Train (Kolkata to Hasimara). Bangladeshi travellers can take this route; however, they must arrive at Kolkata Railway Station. From Hasimara, it is 30 minutes ride by taxi to reach Thimphu.
If you are comfortable with the bus, the only way to go to Thimphu is Kolkata to Bhutan bus service, which the Bhutanese government runs.
Transportation
Taxi is the preferable transport in Thimphu as there are no metro rail and domestic airports. Using a taxi, you can go to every place mentioned in the top attractions. You should know there are traffic wardens instead of traffic signals in the country, and the inhabitants adore it.
There is no extensive intercity bus network in Thimphu. But you can use buses anywhere in Bhutan, and the bus service is frequent.
Food of Thimphu
What makes Bhutanese food unique is their spices, which they use in almost all of their dishes . A trip to Thimphu is incomplete without trying out Bhutani Cuisine. Additionally, a lot of Chinese and Indian food is available in Thimphu.
There are some foods one must not miss out on their Thimphu trip:
Ema Datshi:
the word 'Ema' means chillies, and Bhutanese language, 'Datshi' means Cheese. For some people, it could be overly spicy. It is the national dish of Bhutan and unarguably the best dish in the country.
Red Rice:
One of the main cuisines consumed by Bhutanese people is red rice. This rice pairs nicely with foods with strong flavours because it has a very earthy and nutty flavour. It is a highly nutritious food as it is gluten and wheat free.
Jasha Maru:
The Jasha Maroo (Maru) is a spicy curry which they cook with chopped chicken, tomatoes, ginger, onion, garlic, and coriander leaves. Locals eat the dish with red rice, as is the case with most Bhutanese cuisine.
Jaju Soup:
Jaju is a traditional Bhutanese soup with other dishes. First, they make broth with butter and milk. Adding Cheese to the Jaju soup can enhance the taste even more.
Suja:
Suja is a Bhutanese butter tea which they usually serve after meals. They also call it Po cha or Goor Goor. The tea tastes more like butter than tea, and it's salty flavour might surprise some people.
You may also taste Jasha Tshoem, Buckwheat pancake, Puta (buckwheat noodles), and so on.
Conclusion
Thimphu, the country's most modern city, is attraction tourists for its spectacular scenery and rich culture. The city is upholding the tradition and cultures since day one. Since Thimphu is home to Bhutanese cuisine and culture, if you visit there, you may learn everything there is to know about the nation.