Bangladesh is a small South Asian country filled with natural and cultural diversity. Due to its unique geolocation, the country has always been the center of attraction. She has a total land area of 57,320 square miles (about half the area of Arizona) but her cities are denselypopulated. Extending from the chilly views of Kangchenjunga on the north to the blue coastline on the south. The country is crisscrossed with over 700 rivers owning the most substantial number of rivers in the world. The country got a diverse topographical entity shielded by its mountains and the sea. 
Bangladesh is blessed with natural resources. It owns the longest unbroken coastline in the world, named Cox's Bazar, which has a length of 120 Kilometers. It is also hallowed by the largest mangrove forest in the world, "The Sundarbans." Bangladesh is home to the world's largest river estuary, molded by The Padma (also known as the Ganges or Ganga) and The Brahmaputra Rivers. The Malnicherra Tea Estate, the oldest tea garden in South Asia, is also located in Bangladesh. Before diving into the unparalleled locations of this incredible country, let us know a little more about the country.
Official Name: People's Republic of Bangladesh
Spoken language: Bangladesh has 39 languages, but Bangla is the most widely spoken language.
The official unit of currency: Bangladeshi Taka (BDT)
Capital: Dhaka
Population: 160 million
Average International Tourist: 320,000 per year
Parliament Type: Unicameral
UNESCO Heritage Sites: 3, including Shat Gombuz Mosque, Paharpur & The Sundarbans.
Top Cities to visit: Dhaka, Chittagong, Cox's Bazar.

Where to go in Bangladesh
Bangladesh has eight divisions consisting of 64 districts, filled with historical landmarks and beautiful tourist destinations. Here is a brief overview of the eight divisions.
Dhaka:
Dhaka is the capital of Bangladesh. It was the capital of the Mughal Dynasty of the Bengal Domain. It is situated at the very center of the country on the bank of the Buriganga river. The city is known as the city of mosques and rickshaws. Dhaka has 13 districts, each with unique beauty and attractions.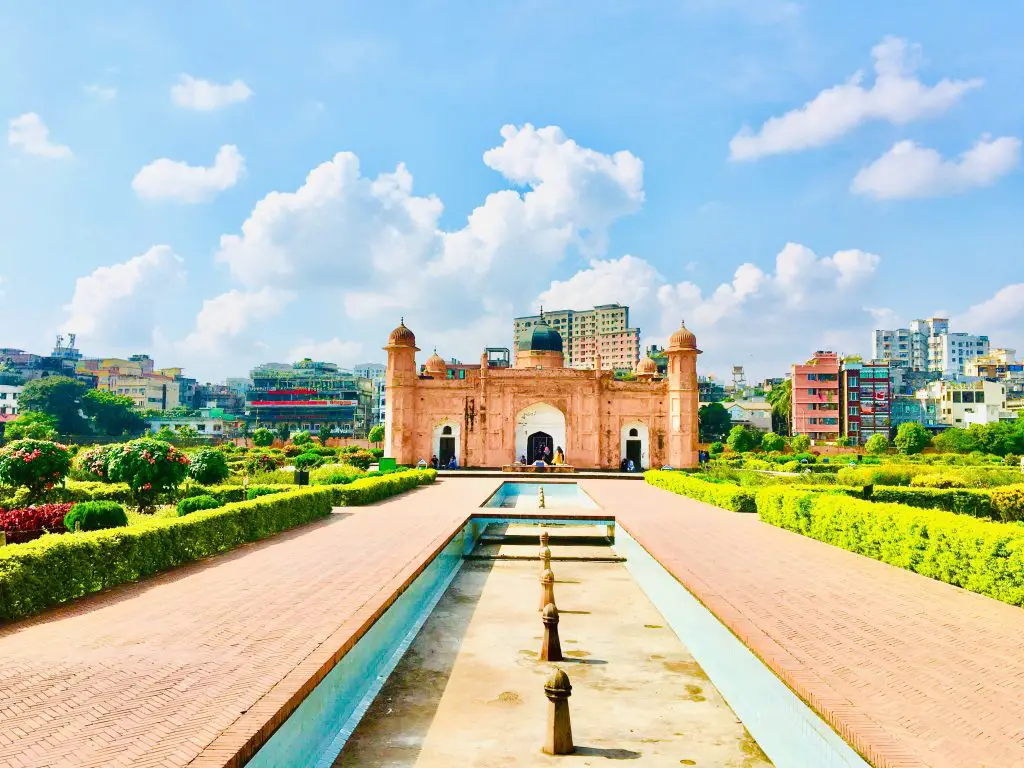 Chittagong:
Chittagong, officially known as Chattogram, is the commercial capital of Bangladesh. The city is located on the bank of the Karnaphuli river. It is the second largest city in the country. Chittagong division is the most popular tourist destination due to its diverse natural beauty. The city is called the port city of Bangladesh as it owns the largest seaport in Bangladesh, which handles almost 80 percent of the country's exports and imports. The division consists of eleven districts.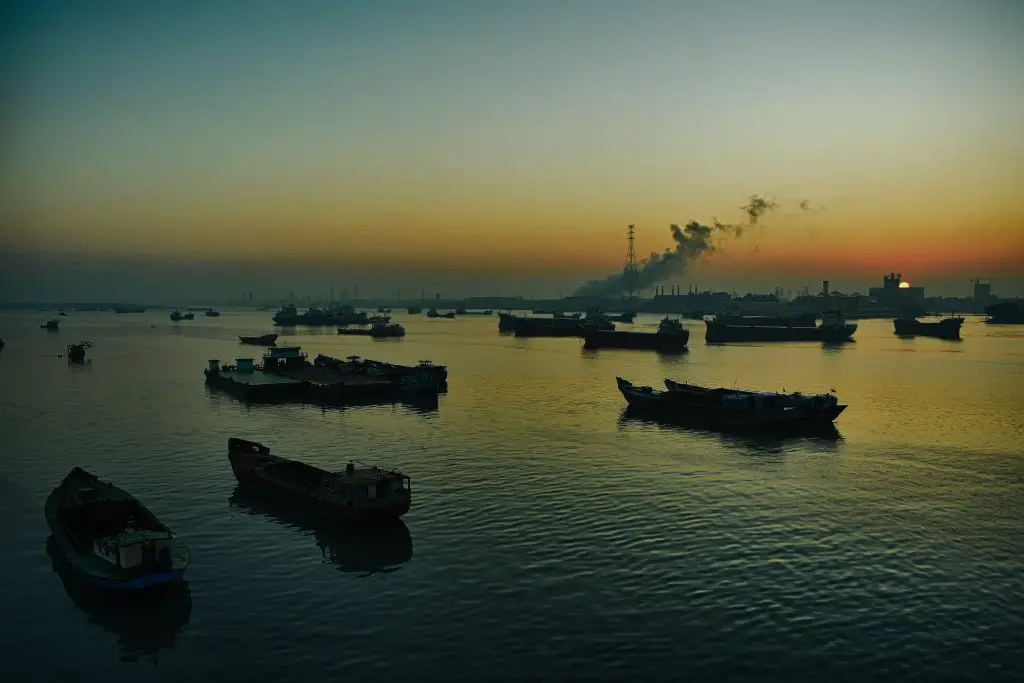 Khulna:
Khulna, previously known as Jahanabad, is the third largest city in Bangladesh. It is situated on the banks of the Bhairab and Rupsha rivers. The Khulna division plays a significant role in the country's economy. It owns two seaports by the name of Mongla and Payra. The division also has two of the three UNESCO heritage sites in the country. The division has ten districts.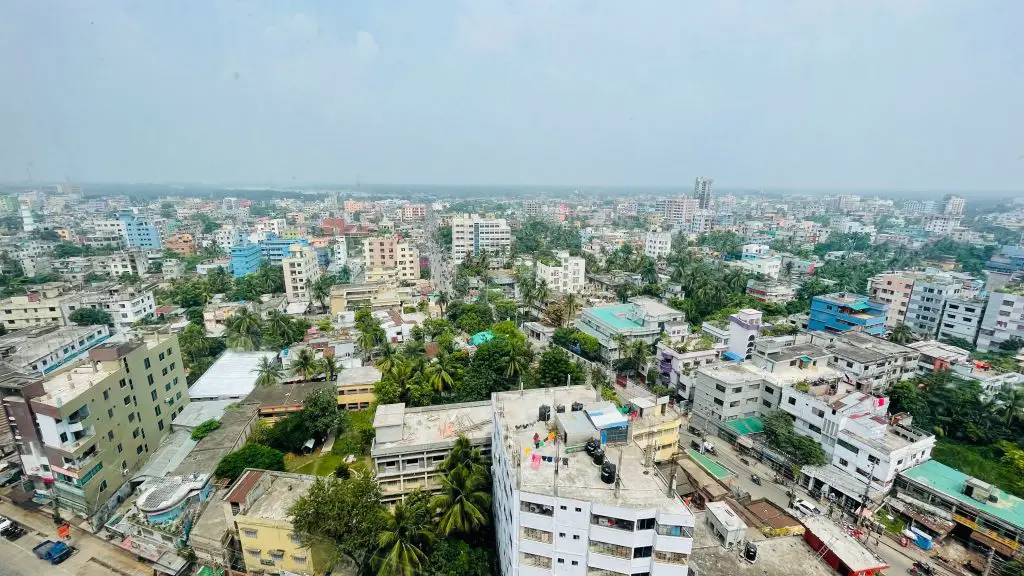 Barishal:
Barisal, officially known as Barishal, is one of the largest cities in the country. It is located on the north bank of the Bay of Bengal. The city is also known as the Venice of Bengal and the Venice of the East. Barishal is famous for its natural phenomenon known as Guns of Barishal. Barishal division has six districts. The division owns the second largest sea beach in Bangladesh, Kuakata, also known as the daughter of the sea.
Rajshahi:
Rajshahi, formerly known as Rampur Boalia, is a city in Western Bangladesh. It is situated on the bank of the Padma River. The city is known as "The Silk City." Rajshahi is the divisional headquarter of the Rajshahi division. The city owns several historical landmarks, including Paharpur, Mohasthangar, and Kantojir Temple. Rajshahi is also famous for its fruits, especially Mango and Lychee (locally known as Lichu). Rajshahi consists of eight districts.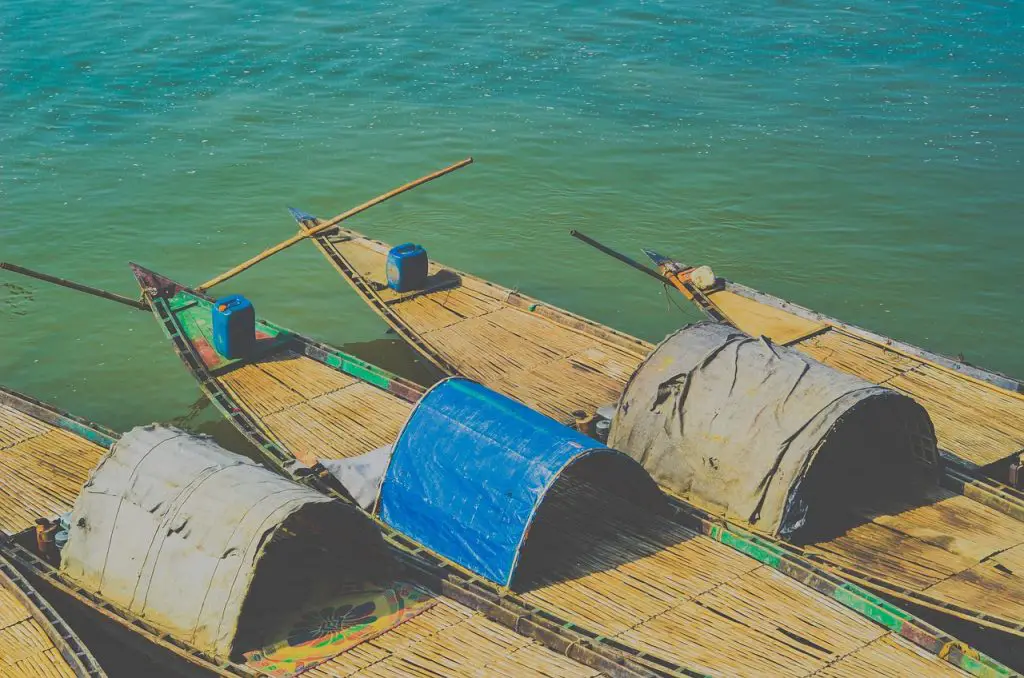 Sylhet:
Sylhet, previously known as Jalalabad, is situated in northeast Bangladesh. It sits on the bank of the Surma river. This ancient township is full of forest, mineral, and fishery possessions and is full of natural beauty. Sylhet is famous for its tea gardens and waterfalls. Diverse indigenous people living in Sylhet have different languages and cultures. Sylhet division consists of four districts.
Rangpur:
Rangpur is a part of Northern Bangladesh. It is by far the most underdeveloped division of Bangladesh. Yet, despite being one of the country's slowest developing cities, Rangpur keeps the allure of many natural and historical landmarks. The city sits on the bank of the well-known Tista River. The division consists of eight districts.
Mymensingh:
Mymensingh, locally known as Momenshayi, is the latest division of Bangladesh. Previously it was a part of the Dhaka division. The city is beside the Old Brahmaputra River. Although not very famous as a tourist destination, Mymensingh has a lot of historical landmarks and quite a few natural sites. Mymensingh consists of four districts.
How to get Visa
Bangladesh has 46 Embassies, and 62 Consulates spread all over the world. The country provides visas to every country's citizen except Israel. Bangladesh offers visa exemption to 25 countries for up to 90 days (about 3 months). It also provides On-Arrival Visa to 52 countries, including all European Union countries. Citizens of other countries may also get an on-arrival visa if they have prior hotel booking and a return ticket for $500 or €500. Residents of 26 countries, including India and Pakistan, need a permit before arriving in Bangladesh. For more information, please visit the Department of Immigration and Passports.
Entering Bangladesh
Only Indians can visit Bangladesh by air, road, and by train. Nepal and Bhutan residents may also enter the country by road if they have an Indian transit visa. Citizens of other countries need to visit Bangladesh by air. Bangladesh has three International Airports. They are Shahjalal International Airport Dhaka, Shah Amanat International Airport Chittagong, and Osmani International Airport Sylhet. Another International Airport is currently under construction in Cox's Bazar.
Each of these International airports also operates as a domestic airport. Apart from these, Bangladesh has four other domestic airports in Jessore, Rajshahi, Barishal, and Saidpur. Furthermore, Bangladesh and India have Cross-country train services. The train service operates on two different routes, Dhaka-Kolkata and Dhaka-Siliguri. In addition, Bangladesh and India share seventeen land ports. So, it is pretty easy for Indians to visit Bangladesh at their convenient time.
Climate in Bangladesh
The most astonishing fact about the Subcontinent's climate is it maintains a temperate state, meaning not too hot, not too cold. Throughout the monsoon, steady and extended cloudbursts are intermingled with spurts of burning daylight, and the unescapable humidity can be penetrating. The country faces a lot of floods during the rainy reason, and communications get disrupted
Usually, western countries celebrate four seasons. But Bangladesh has six seasons. They are Summer, Rainy season, autumn, late autumn, winter, and spring. Locals call summer the season of fruits. If you want to taste the delicious fruits of Bangladesh, you may pay a visit in the summer.
When to visit Bangladesh
You can visit Bangladesh any time of the year without losing your comfort. But, if you are not too comfortable with summer outings, you should avoid visiting Bangladesh in the summer. Extreme humidity can be terrifying sometimes. However, the time of your visit should depend on the area or purpose.
If you want to go hiking or trekking mountains, autumn is the ideal time. The trekking season reaches its peak in the late autumn. But if you want a sweet family visit, you should hold that thought for the cool and dry season. The most suitable time to visit Bangladesh is the later part of the year; The weather remains cool and calm from November to March.
Food and Culture
Like its unique climate, Bangladesh also has an inimitable food culture. If you want to taste the vast kingdom of spicy, sour, and sweet foods, you should start planning your trip soon. The people are very hospitable here; they may offer you food or invite you to their home for lunch or dinner. They follow Bengali Keta, a certain set of etiquettes
The Mughal food culture has intensely influenced Bangladeshi foods, specially Dhakaiya foods; This is why Biriyani and other spicy and aromatic foods are so prevalent in Bangladesh. Rice is the staple food of Bangladesh. The local food culture also has a little Turkish and Arabic incline. The Bangladeshis call themselves "Bengalis in Fish and Rice" due to their heavy dependence on sea and sweet water fishes.
Bangladesh also has a massive collection of sweets and desserts. A lot of them are purely Bengal origin. The Rosho Golla, Payes, Finni, Rosh Malai, Sweetened Curd, Monda, Chamcham, Mohan Bhog, Sandesh, Boondiya, Jilapi, Rabri, Malpua, Naru, Labanga Latika, Pantua, Goza, Mihidana Naru are some of the most popular desserts. Indians and Turkish delights are also ubiquitous sweets in Bangladesh. For a country, this small, Bangladesh has a very assorted food culture.
Travel Safety in Bangladesh
Tourists are generally safe in Bangladesh. But, like anywhere else, some early safety measures and a little common sense could come in handy if you want to be safe from scams and thefts. It would be best to be alert when using public transport like local buses and trains; don't use mobile phones keeping your bus window open, as pickpockets are looking for chances to snatch away your mobiles.
If you are sharing dorms or staying in cheap hotels, you should ensure you are locking the bags correctly, and while traveling, keep your bags with you to avoid losing your baggage. Don't leave your mobile and purse unattended when swimming or playing.
Keep in mind that popular travel destinations are hotspots for thieves. Do not accept food or anything else from strangers or fellow passengers on the bus or train, as it is one of the most common baits to steal from you. Lastly, you should not visit the Chittagong Hill Tracts without proper permits and an experienced guide.
Female Travellers:
You may or may not know that Bangladesh is a role model in women's empowerment. While there is a long way to go, Bangladesh is relatively safe for women if we compare to other South Asian countries. Still, we would not recommend staying out after 8 pm if there is no male partner with you. The same is true for males because pickpockets and thieves become more active as the night passes.
LGBTQ Issue:
While everyone has the right to share their opinions, one should respect the cultures of the country they visit. Bangladesh is a Muslim majority country, and they strongly oppose the idea of LGBTQ. There are laws and regulations about these; you should not do anything publicly that will upset the locals. In other words, if you are an LGBTQ activist, please don't do anything to offend the general folks.
Local Transports
As I have mentioned earlier, there are seven active domestic airports in Bangladesh. As Bangladesh is one of the least developed countries in the world, common people does not use flight that much. Bus and train are the most common method of transportation. Bus and train are two of the most famous methods of intercity transportation. You can use ride-sharing apps like Uber in big cities like Dhaka, Chittagong, and Sylhet. In other cities, you have to use local baby taxis known as CNG.
By Bus:
There are 3 large Bus Terminals in Dhaka, including Mohakhali, Gabtoli, and Sayedabad. You will find buses for 291 different routes from these terminals. Besides, there are small bus stands throughout Dhaka so that you can catch a bus from your convenient place. In most cases, you can book your ticket instantly before your trip unless there is a public holiday ahead.
If you are from a South Asian Country, Non Ac and Economy Class AC buses are good to go. But, if you are from Europe or North America, you should use Business Class AC Buses for long-distance travel. Greenline, Soudia, Shohag Elite, Saint Martin Paribahan, and Desh Travels are some of the most popular business class travel partners.
By Train:
Railway traveling is the most common method of transport for the common folks. As train tickets are cheap and the journey is comfortable, people prefer to travel by train if tickets are available. But, the availability of train tickets in Bangladesh is a story for another day. If not booked a week before, you will hardly find any tickets for economy class compartments. But luxurious cabins are available most of the time. It would be best if you remember that trains in South Asia are not like in Europe.
Conclusion
Bangladesh, with its struggling past, has come a long way. This country has faced many wars, including the British-Mughal war, the India-Pakistan war, and the Bangladesh independence war. She has also survived two famines and countless natural calamities. After its independence, someone even compared Bangladesh to a bottomless case.
For a 50-year-old country, Bangladesh is doing better than most. In the present, this country thrives on being the best, leaving its other part (Pakistan) behind. Bangladesh has crossed Pakistan in every economic indicator in the last 50 years. UN considers Bangladesh among the next eleven emerging economies of the world.