Jodhpur, the second largest city in Rajasthan, is a historical place in India. The people from all over the world know the city as "The Blue City of India". The city is a popular tourist destination for those interested in architecture, history, and local culture.
How to go there
From USA or UK: From USA or UK to Jodhpur, India, one would first need to book a flight to the nearest major international airport, such as Indira Gandhi International Airport in Delhi or Chhatrapati Shivaji Maharaj International Airport in Mumbai. From there, one can book a connecting domestic flight to Jodhpur Airport.
In India, Jodhpur has excellent transportation options. The Blue City of india is easily accessible from every location in the nation. You can take a bus or train from anywhere if you are already in Rajasthan. But if you'd prefer, you can fly domestically to Jodhpur from important cities like Jaipur or Udaipur.
Places to visit in Jodhpur, the blue city of India
Mehrangarh Fort:
Mehrangarh Fort is a 15th century fort in the city of Jodhpur. The fort is situated atop a tall hill, providing breathtaking views over the blue city. The fort has several gates, each with a distinct and own history.
Inside the fort, visitors can explore several palaces, courtyards, and temples. Major attractions of the Fort are the majestic views of the city, the Moti Mahal, the Phool Mahal, and the Sheesh Mahal.
Location: Sodagaran Mohalla, Jodhpur
Timing: 9:00 am to 5:00 pm; open on all day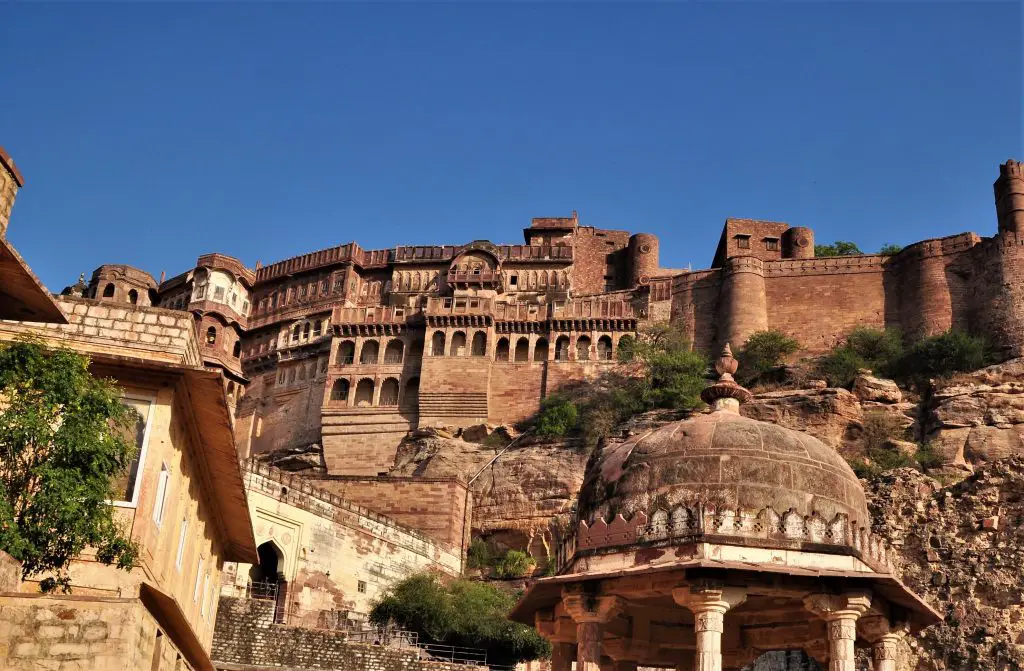 Jaswant Thada:
Jaswant Thada, a 19th-century royal cenotaph, is in the blue city of Rajasthan. It is a memorial made of white marble that was erected in Maharaja Jaswant Singh II's honor. It also functioned as the Marwar Royal family's cremation place.
The memorial is famous for its beautiful architecture and the rich history. Inside the memorial, visitors can see several portraits of the Maharajas of Marwar. Additionally, lovely gardens surround the area, making it a wonderful spot for unwinding and taking in the beauty of nature..
Location: Near Mehrangrah Fort
Timing: 9:00 am to 5:00 pm; open on all day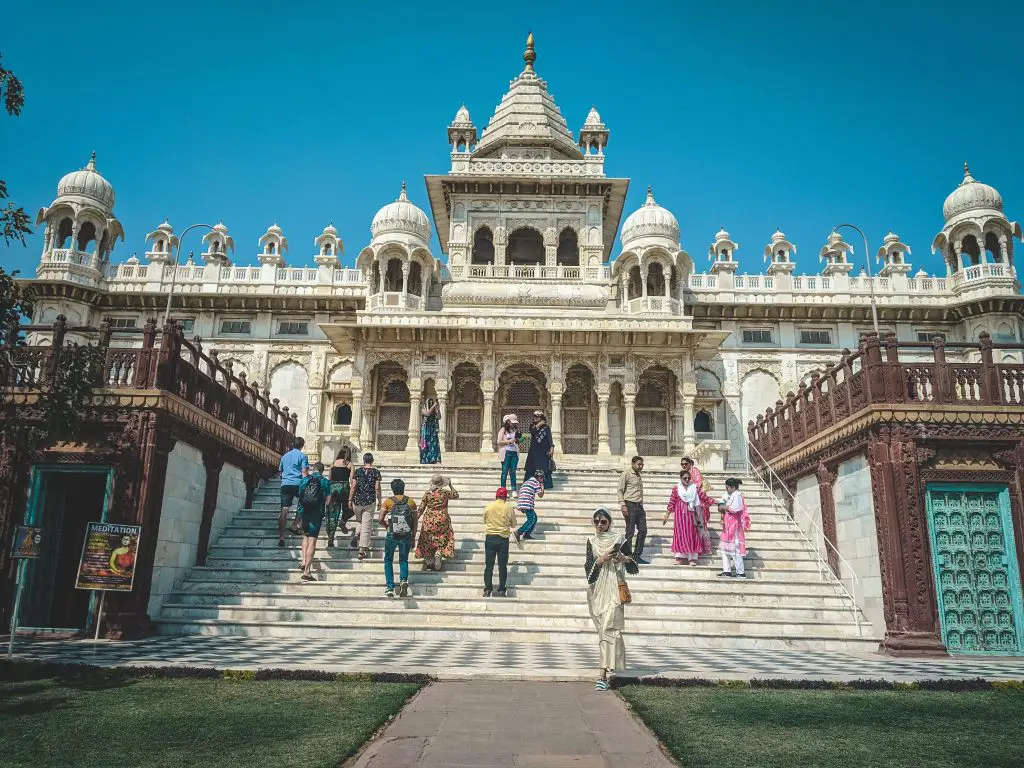 Umaid Bhawan Palace:
Umaid Bhawan Palace is one of the largest private residences in the world. There are 372 rooms in the Palace, along with a wood-paneled library, a private museum, an indoor pool, and many other fascinating and unusual attractions.
The palace is open to visitors and there is also a luxury hotel, where visitors can stay in one of the opulent suites and experience the lifestyle of the Maharaja. It is a great place to learn about the history and the culture of the region.
Location: Circuit House RD, Cantt Area, Jodhpur
Timing: 9:00 am to 5:00 pm; Every day.
Mandore Garden:
Mandore Garden is a famous royal cenotaph in just 9 kilometers away from Jodhpur City. A collection of temples, cenotaphs and a government museum make the garden known to the locals and visitors.
The garden is home to a number of ancient temples and shrines, including the 33 feet high Lord Shiva statue, the Hall of Heroes, and the Temple of 33 crore gods. If you want to learn about history and unwind in the beautiful surroundings, this is a fantastic destination.
Location: Mandore, Jodhpur
Timing: 8:00 am to 8:00 pm; Everyday
Clock Tower and Sardar Market:
The clock tower, also known as Ghanta Ghar, is a popular tourist destination in the heart of Jodhpur's old city. The Sardar Market, a well-liked location for street food and shopping, is located all around this lovely landmark. While you are in Jodhpur, don't miss the chance to go there and taste some local street foods.
Balsamand Lake:
Balsamand Lake, a popular bird-watching spot, is home to a variety of migratory and resident bird species. This artificial lake is about 1 kilometer long, and 50 meter broad.
Visitors can take a boat ride on the lake to enjoy the surroundings of the lake. The Balsamand Lake palace is in the banks of the lake, which is now converted into a five-star hotel.
Location: Mandore Road, Near BSF STC, Jodhpur
Timing: 6:00 am to 8:00 pm; Everyday
Local Foods of the blue city
Jodhpur is known for its traditional Rajasthani cuisine, which is characterized by its use of spices, ghee, and milk. Some popular local foods of Jodhpur include:
Dal-Baati-Churma:
Dal- Baati-Churma is a traditional Rajasthani dish, which is consist of three main components: Dal (Lentil curry), Baati (wheat balls), and Churma ( a sweet dish made of crushed wheat and jaggery).
People of the city usually take it as a main dish, and it is a staple food in Rajasthan. It's a perfect example of how food in Rajasthan a beautiful blend of flavors, textures, and aromas is.
Mirchi Vada:
In Jodhpur, mirchi vada is a well-known street food. Chili peppers that have been stuffed are called mirchi. Therefore, the recipe consists of stuffing sizable green chili peppers with a mixture of potatoes, peas, and spices, then deep-frying them until they are crispy. Don't miss the chance to taste the dish.
Kachoris:
Kachoris are one of the traditional foods in Jodhpur, Rajasthan. They are small, round pastries made of wheat flour and stuffed with a variety of fillings.
There are many types of kachoris you can find throughout the city. Some common and famous types of kachoris are -Dal Kachori, Pyaaz Kachori, Mawa kachori and many more. Kachoris are usually served with chutneys or yogurt.
Makhaniya Lassi:
Makhaniya Lassi is a traditional yogurt-based drink you can find throughout the Jodhpur, the blue city of India. Making makhaniya lassi requires blending yogurt, milk, and sugar. When you are tired, this drink will refresh your mind and body.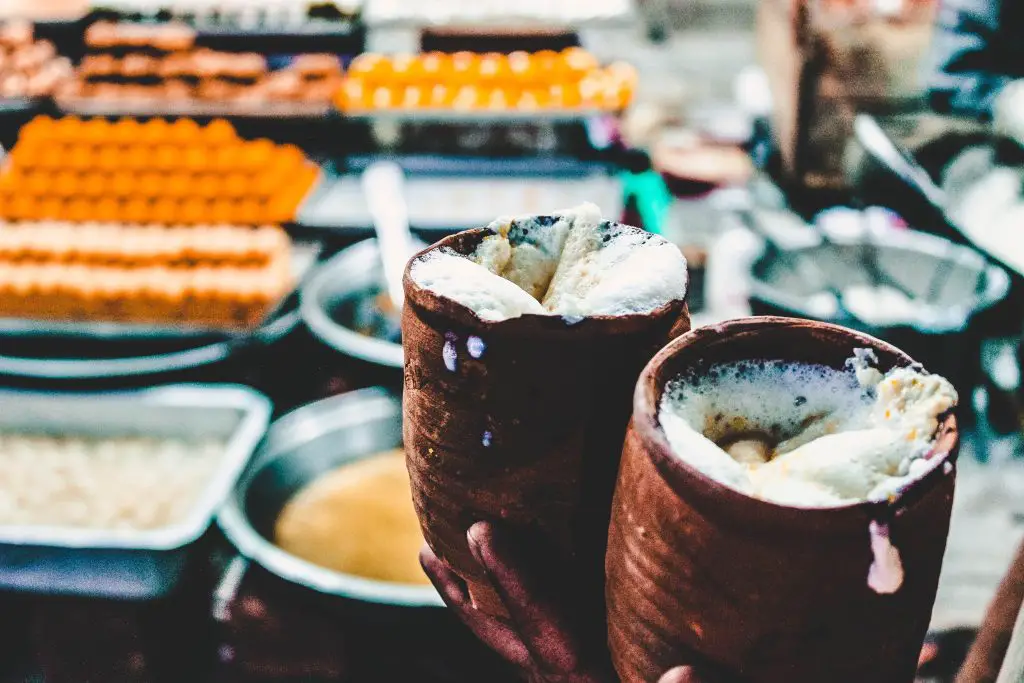 Ker Sangri:
Kar Sangri is a traditional Rajasthani dish. The word "Ker" means dried berries and "Sangri" means beans. The dish is famous for its distinct and unique taste. Ker Sangi is prepared by cooking the ker and sangri together with a variety of spices and yogurt.
Jodhpur traditionally serves the dish as main course. Don't miss the authentic taste of Ker Sangri when you are visiting the blue city of India.