Freedom Beach is a hidden gem in Phuket, Thailand. Its white sands and clear waters draw people from around the world. The beach is hard to reach, which keeps it peaceful and pristine. 
Located on the west coast of Phuket, Thailand, Freedom Beach is not like other tourist spots. To get there, you must take a boat or follow a steep jungle path.
People come to this Beach for many reasons. They enjoy the natural beauty and the chance to relax. The beach is also safe for swimming. It is perfect for those who love the sea and sand without the crowds.
Are you looking for a beach that feels like your own? Then, Join us to explore one of Phuket's best-kept secrets.
How to Get to Freedom Beach?
Getting to this beach is an adventure. You can choose to travel by land or sea. Each option offers its own experience.
Hiring a Tuk Tuk
A tuk-tuk is a three-wheeled taxi. It's a common way to get around in Thailand. To reach the Beach, hire a tuk-tuk to take you to the drop-off point. This is near the beach's entrance. The ride is bumpy and fun. It gives you a real feel of the local area. Once you arrive, a short walk through the jungle path leads you to the beach.
Hiring a Longtail Boat
For a scenic route, hire a longtail boat. These traditional boats are available from Patong Beach. The boat ride offers stunning views of the coastline. It takes about 10 to 15 minutes. The boat drops you right on the sand of the Beach. This way, you get to the beach with a fresh sea breeze in your hair.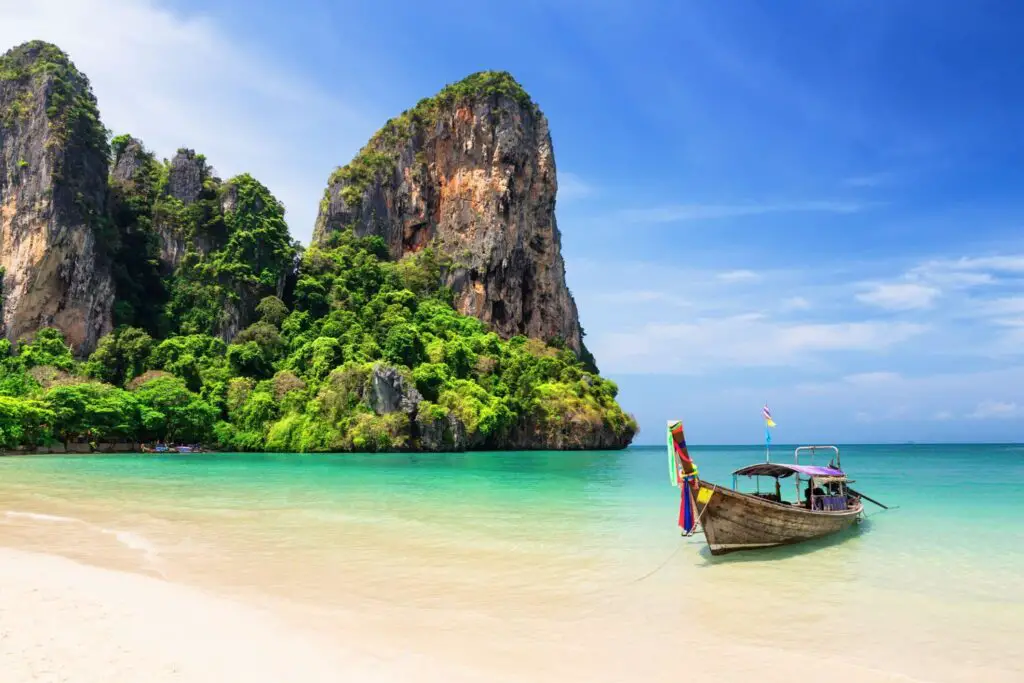 What Makes Freedom Beach Special?
This beach stands out in Phuket for its serene beauty. It's less crowded, offering a peaceful retreat. The journey to get there is part of its charm, with access by boat or a jungle trail. 
Its white sand is soft and clean, the water, a clear turquoise. The beach is a haven for snorkelers, with vibrant coral reefs just a swim away. There are no loud motorboats to disturb the tranquility.
The surrounding hills provide a lush backdrop, making it a picturesque haven. This seclusion and natural beauty make Freedom Beach a special spot for those looking to unwind.
What Exciting to Do on Freedom Beach?
Freedom Beach is not just a place to relax. It's full of activities that make your visit exciting.
Snorkeling Adventures at Freedom Beach
Snorkeling at Freedom Beach is a must. The water is crystal clear, revealing vibrant coral reefs just offshore. Rent snorkeling gear from local vendors. For the best experience, go early when the water is calmest.
Look for the rocky areas; they're hotspots for marine life. Remember to respect the underwater environment, avoid touching the coral or feeding the fish. This way, you ensure the beach remains unspoiled for future visitors.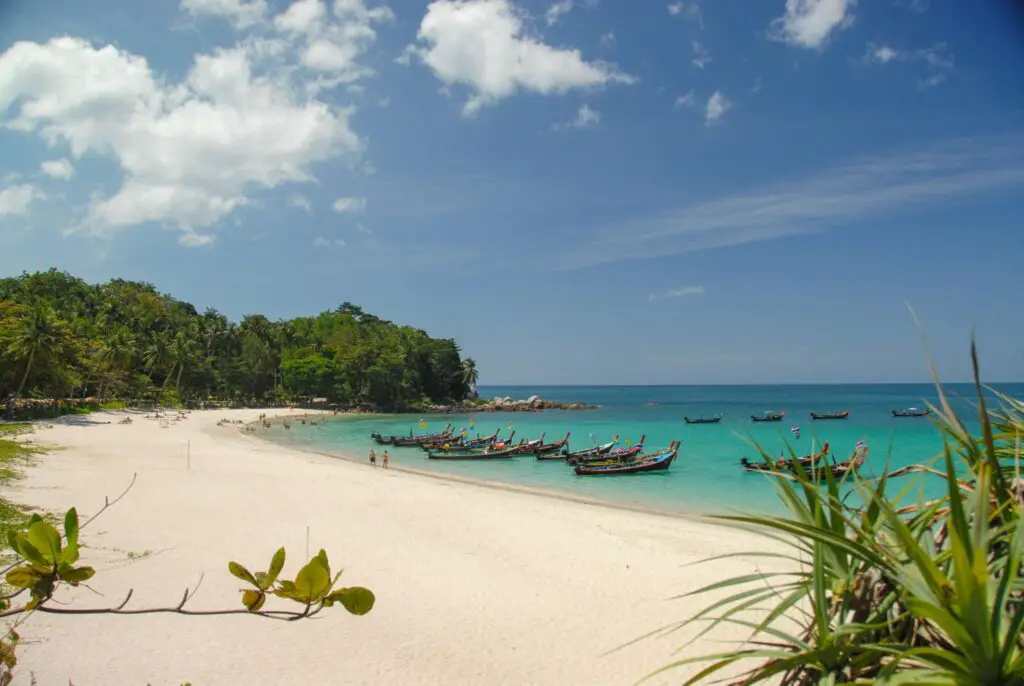 Discovering Marine Life at Freedom Beach
At Freedom Beach, the underwater world teems with life. Dive in and you might spot parrotfish, sea turtles, and even harmless reef sharks. The best spots are where the rocks meet the sand.
Go slow and keep your eyes peeled. Early mornings offer calmer waters for clearer views. Always keep a safe distance from the creatures to protect both you and the marine life. This respect helps preserve the beach's natural beauty.
Barefoot Bistro Dining Experience
Enjoy a meal at the Barefoot Bistro on Freedom Beach. This dining spot offers fresh seafood and Thai specialties. Eat with the sand between your toes. For a special treat, try the catch of the day.
It's best to dine during sunset for a memorable view. Remember, cash is king here as cards may not be accepted. This beachside meal combines great food with a perfect, laid-back atmosphere.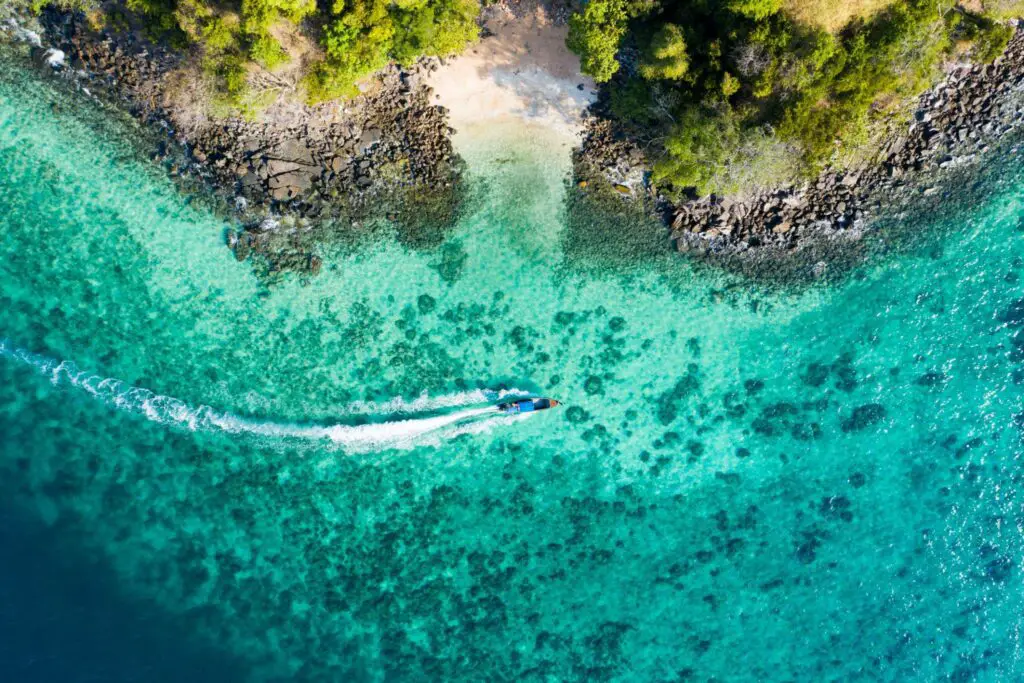 Captivating 360 Panorama Views
At Freedom Beach, the viewpoint offers a stunning 360-degree panorama. Climb up early in the morning or late afternoon to avoid the heat. The view spans the entire beach, the ocean, and the surrounding hills. Bring water and wear good shoes for the hike.
The path can be steep, but the breathtaking sight from the top rewards your effort. It's a perfect photo opportunity, so have your camera ready. This experience is a highlight for any visitor.
Finding Accommodations & Transportation Nearby
Planning your stay near Freedom Beach means finding the right spot to rest. You'll also need to think about how to get to the beach itself.
Hotels and Resorts Nearby
Several hotels and resorts offer comfort close to Freedom Beach.
Hotel IKON Phuket is modern and stylish. It's a short drive from the beach. The hotel has a pool and offers beautiful views.
Phuket Island View Hotel is a budget-friendly option. It's close to Karon Beach. From there, Freedom Beach is easily accessible.
Avista Grande Phuket Karon MGallery is a luxury choice. It provides top-notch amenities. It's also near the beach.
Food Near Freedom Beach
Finding good food near Freedom Beach is easy. There are dining spots that offer delicious meals with a view.
Ta Khai
Ta Khai is a rustic restaurant known for its authentic Thai cuisine. It's a short drive from the beach. The chefs use fresh, local ingredients. Try their signature seafood dishes. The setting is cozy, perfect for a relaxed dinner.
Little Tiger
Perched above a small beach, Little Tiger is a hidden gem. It's within walking distance from the beach. The menu has a variety of Thai food. The prices are reasonable. The view of the sunset here is incredible.
Blue Mango Bar & Grill
It offers a mix of Thai and international dishes. It's a bit further away but worth the trip. The atmosphere is casual. They serve hearty meals, perfect after a day at the beach. The cocktails here are a must-try.
FAQs
Are there any entrance fees for Freedom Beach?
As of my last update, there was no official entrance fee, but this can change, and there may be charges for services like beach chairs.
Is it safe to swim at Freedom Beach?
Yes, the waters are typically calm and safe for swimming, but always be mindful of the weather and water conditions.
What is the best time to visit Freedom Beach?
The best time is during the dry season from November to April when the weather is sunny and the sea is calm.
Is Freedom Beach family-friendly?
Yes, its calm waters and clean sand make it suitable for families.
Are there any hotels directly on Freedom Beach?
There are no hotels on the Beach itself to maintain its unspoiled nature, but there are several accommodations nearby.
How long should I plan to stay at Freedom Beach?
A half-day to a full day is sufficient to enjoy the beach and its activities.
Is the Beach crowded? 
Freedom Beach is less crowded than other beaches in Phuket due to its less accessible location.