Cheow Lan Lake is an artificial lake in the heart of southern Thailand. The lake is about 165 square kilometers in size and runs through the breathtaking Khao Sok National Park. A haven for environment lovers, its emerald-green waters are encircled by soaring limestone cliffs, thick rainforests, and a wealth of flora and fauna.
Visitors are enthralled by this spectacular reservoir's breathtaking beauty and unspoiled wildness, which is also known as Ratchaprapha Dam Reservoir. So, let's explore the hidden gem of Thailand together. If you want to explore more places in Thailand you can read out the articles about Phuket Bangla Road , Hong Island, and Khai Nai Island.
Origin of Cheow Lan Lake
Cheow Lan Lake, also known as Ratchaprapha Dam Reservoir, is an artificial lake in Khao Sok National Park in southern Thailand. The lake came into existence in 1982 as a result of the construction of the Ratchaprapha Dam across the passage River. The dam was built to generate hydroelectric power and control flooding in the region. As a result, it produced a magnificent lake that covers an area of roughly 185 square kilometers, or 71 square miles.
Beauty of Cheow Lan Lake
The Cheow Lan Lake, located in Khao Sok National Park, offers a serene escape for travelers seeking natural beauty and tranquility. Cheow Lan Lake offers a captivating landscape of the magnificence of nature with its green waters, towering limestone cliffs, and dense forests. Besides, the abundant biodiversity surrounding the lake is awe-inspiring.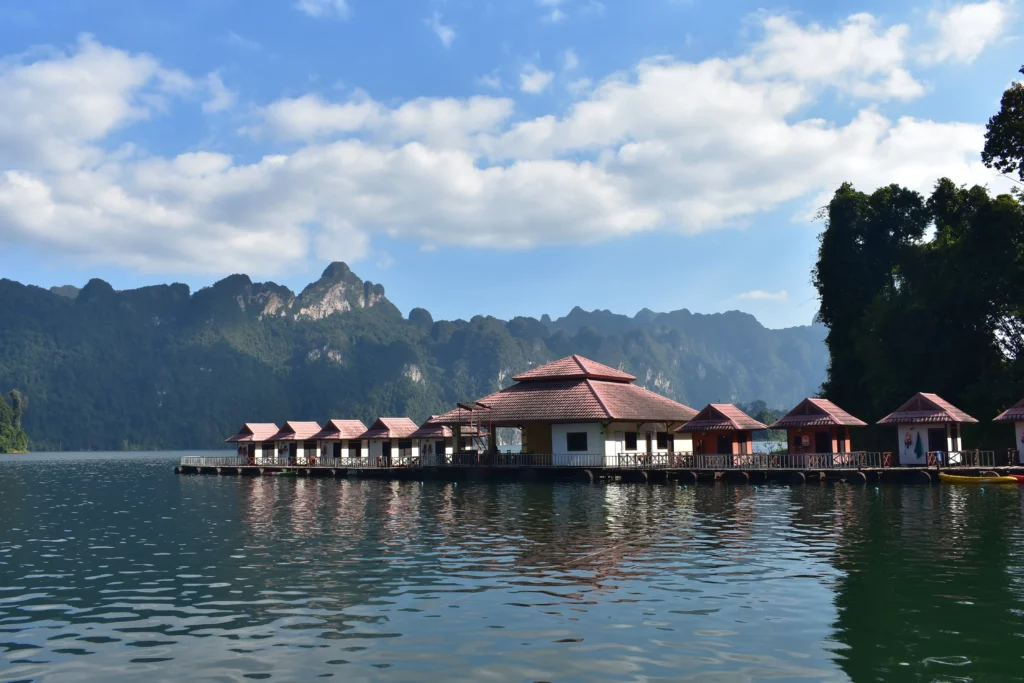 The crystal clear waters are home to a myriad of fish species, including the famous giant freshwater stingray. Set out on an adventure in a kayak or long-tail boat and make your way through the maze-like network of limestone formations. In the tunnels, explore secret lagoons, spotless beaches, and magnificent stalactite formations. Don't forget to bring your camera so you can document the captivating beauty of this extraordinary habitat.
Watch out for rare orchids, predatory pitcher plants, and colorful bird species, including hornbills and kingfishers.
How to go there
To reach Cheow Lan Lake, you can fly into Surat Thani Airport, which is the closest major airport. From there, you can arrange transportation to Khao Sok National Park, where the lake is located. Buses, taxis, and private transfers are available options. Once you arrive at the park, you can take a boat ride to the lake itself.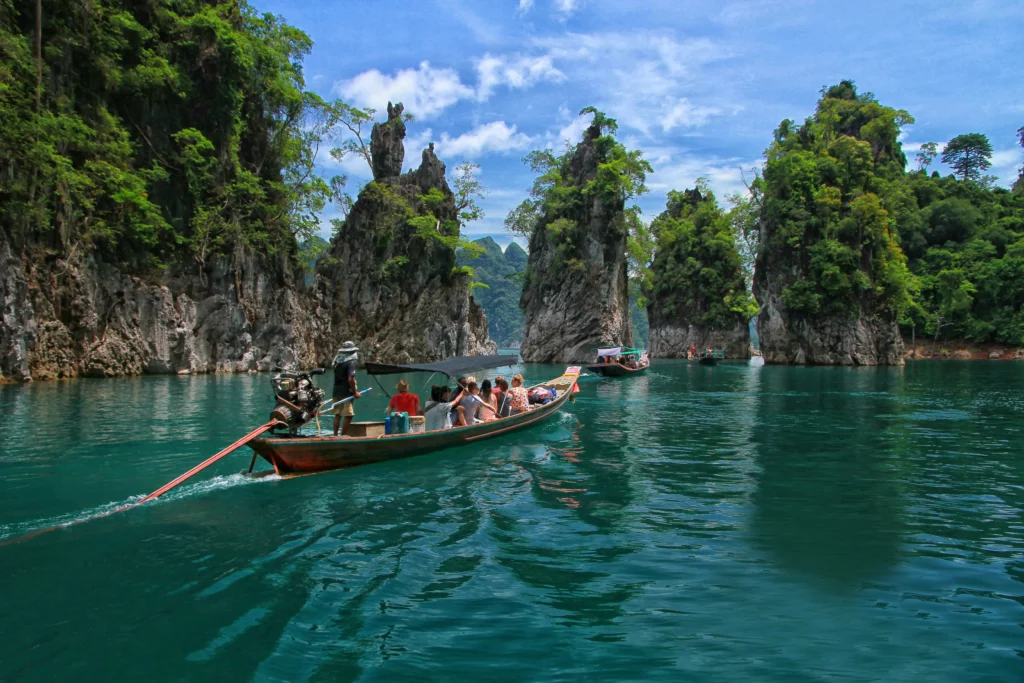 Activities and Adventures in Cheow Lan Lake
For those who enjoy the outdoors and seeking adventure, Cheow Lan Lake has a wide range of activities and excursions. Here are some thrilling activities you can partake in:
Jungle Trekking:
If you want to go for a jungle hikes to fully experience Khao Sok National Park's abundant biodiversity, you can hire a tour guide. Don't miss the chance to travel though the deep rainforests, see unique creatures, and be in awe of spectacular waterfalls.
Bamboo Rafting:
Take in the lake's peace while being surrounded by beautiful vegetation. As you float around placid waters on a conventional bamboo raft.
Night Safari:
After sunset, you may go on an exhilarating night safari to see Cheow Lan Lake's charm. Under a moonlit sky, observe nocturnal creatures come to life and take in the symphony of nature.
Fishing:
Do you love fishing? If yes, try your luck at capturing one of the famous freshwater fish species that live in the lake by going on a fishing expedition.
Swimming and Snorkeling:
One of the famous activates here is swimming and snorkeling. So, don't miss the chance to dive into the refreshing emerald waters of the lake and snorkel to discover the vibrant underwater world.
Local culture and traditions
One of the best ways to understand and appreciate local culture is by engaging in a cultural event with the communities near the lake. These communities are home to indigenous people. Take the time to interact with locals and learn about their traditions, gain insights into their way of life.
The communities near Cheow Lan Lake celebrate various traditional festivals throughout the year, often featuring colorful processions, music, dance performances, and traditional ceremonies. These festive occasions showcase the rich heritage and spiritual beliefs of the local people.
The local communities also have a rich tradition of craftsmanship and artwork. If you want, you can also explore the local markets and shops to discover unique handicrafts, textiles, and artworks created by skilled artisans.
Safety tips
There are plenty of travel tips you should keep in mind while you are visiting the lake. Here are some of them:
Listen to and follow the guidance provided by local guides, park rangers, and authorities.
If you plan to engage in water activities, such as swimming or kayaking, ensure that you are a confident swimmer. Don't forget to take life jacket with you.
If you plan to embark on hikes, jungle treks, or other outdoor adventures, make sure you are adequately prepared.
Frequently Asked Questions (FAQ's)
Is it possible to swim in Cheow Lan Lake?
– Yes, swimming is possible in Cheow Lan Lake. However, it's important to exercise caution and follow safety guidelines.
Can I stay in Cheow Lan Lake?
– Yes, you can stay in Cheow Lan Lake. Floating bungalows provide a unique accommodation experience amid the lake's beauty.
What is the best time to visit Cheow Lan Lake?
– The best time to visit Cheow Lan Lake is during the dry season, which typically spans from November to April. During this period, the weather is pleasant, and the water levels are ideal for various activities. However, it's worth noting that the lake's beauty is ever-present throughout the year, and each season brings its own unique charm.