Kathmandu, the capital city of Nepal, is one of the world's oldest cities to still host people. The city is officially known as Kathmandu Metropolitan City. Kathmandu valley surrounds the incredible city that is home to numerous historical sites, shrines, and old temples. There are around five million people living in the Kathmandu Valley. Madhyapur, Lalitpur, Thimi, Kirtipur, and Bhaktapur are the cities of kathmandu.
Places to visit in Kathmandu
Kathmandu is home to many historical places and ancient temples. Top 10 attractions of Kathmandu are:
Thamel:
Thamel is one of the busiest and well-known commercial areas in Kathmandu, Nepal. It is the hotspot for tourists in Kathmandu valley. Government declared Thamel was a car-free zone in 2017 to stop the honking and make the area safer for pedestrians.
Location: Tribhuvan International Airport is a 20-minute cab ride away.
15-minute trip from Kathmandu bus station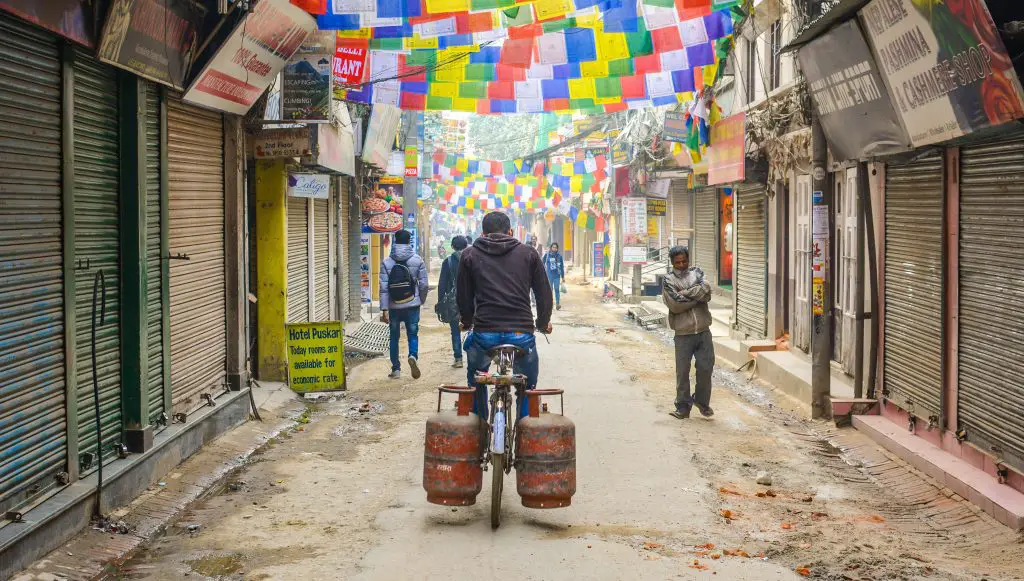 Boudhanath Stupa:
Boudhanath is one of the most stunning tourist places in Kathmandu.You can see it from 4 to 5 kilometers away, and when you get close enough to the location, you will notice that many people are having a good time there with their significant others. Truly speaking, it is a tremendous place to visit in Nepal.
Location: 7 kilometers from the Centre of Thamel.
Opening hours: 24/7
Kathmandu Durbar Square:
Durbar Square is a UNESCO World Heritage Site. Fountains, ancient statues, and many more attractive places surrounds the square. Kathmandu Darbar Square hosts Numerous significant religious rituals, festivals, and festivities .
Location: A short walk from Thamel.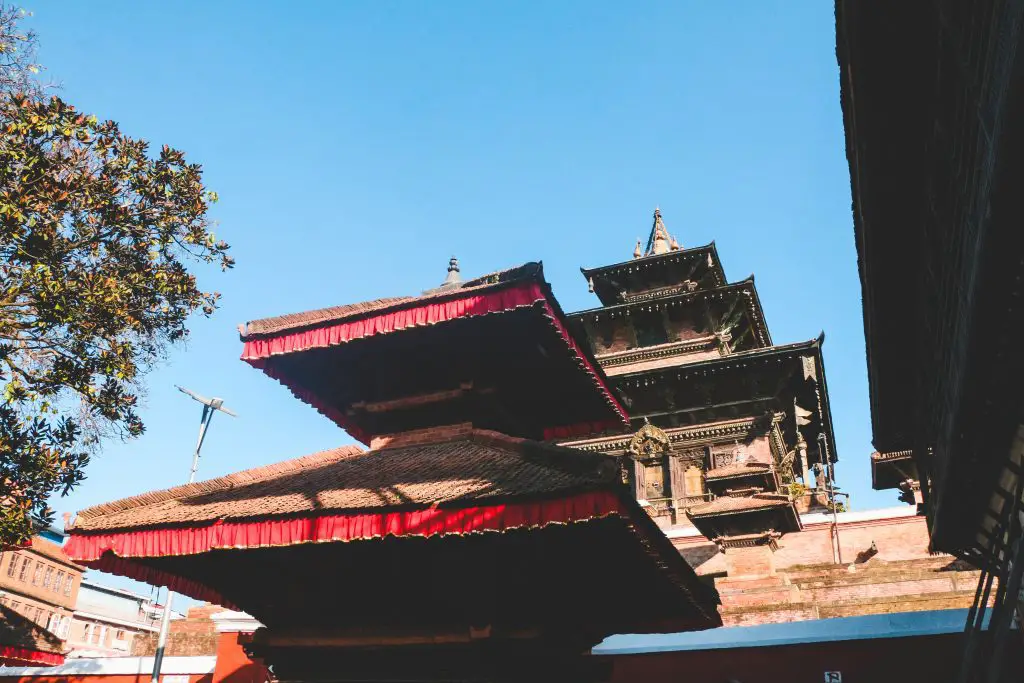 Chandragiri Hill:
Chandragiri hill is approximately 2500 meters above sea level. This place is fulfilled with natural beauty and it is one of the best places to visit in Kathmandu. If you got a clear weather and personal binoculars, you could witness a wonderful view of Everest on east and Annapurna on west.
Location: It is 14 kilometers from Kathmandu and takes almost 1 hour to go.
Garden of Dreams:
As the name suggests, the garden of dreams is a genuinely exquisite garden with breathtaking beauty. The Garden's architectural landscape invites guests to meander about and take in its delights from a variety of angles.
Location: Tridevi Sadak, Kathmandu
Time: 9:00 am to 6:30 pm; everyday
Entry fee: Rs.150 for Nepali; Rs.400 for international tourists. For membership visit Garden of dreams
Pashupati Nath Temple:
It is one of the top attractions of Kathmandu, Nepal. There are plenty of gold-made paintings in this historical place. The authority only allows the followers of Hinduism to enter the inner courtyard and main temple of this temple, making it one of very few in the entire globe.
Location: From Tribhuvan International Airport, two to three kilometers via taxi
Time: 4 am to 9 ppm; Every day.
Entry fee: Free
Bhaktapur Ancient City:
Bhaktapur, the smallest of the three old cities in the Kathmandu Valley, is known for its rich cultural legacy, beautiful architecture, and authentic ethnic Newari way of life. It is one of the must visit tourist destinations in Kathmandu valley. Visitors will glimpse what the entire Kathmandu Valley must have looked like during the Middle Ages here.
Location: About 20 kilometers east of Kathmandu city
Ason Chowk Market:
Ason Chowk is primarily a historic but still bustling market square encircled by temples and shrines. The three-story Annapurna temple is the most famous temple in this area. I recommend you to go there as early as possible to go for a heritage walk in Ason. Because, by late morning and most definitely by late afternoon, Ason can become extremely crowded.
Location: A short walk from Durbar Square
Langtang National Park:
Langtang National Park is one of the most visited parks of Nepal. The calm Gosaikunda Lake, located in this park, is thought to be holy and is located at a high height. Numerous hiking trails may be found, each with a different level of difficulty to satisfy the needs of adventure seekers.
Location: Helambu, Kathmandu, Nepal
Time: 24/7; But it is recommended to go between 8 am to 6 pm
Entry fee: Free for Nepali nationals
SAARC Nationals: Rs. 1500
Foreign Nationals: Rs. 3000
Kopan Monastery:
Kopan Monastery is a stunning Tibetan Buddhist Monastery, which is a famous tourist's destination. The place attracts the people interested in learning about Tibetan Mahayana Buddhism. Visitors have the option of spending a few hours relaxing and enjoying the lovely monastery, participating in a retreat, or attending one of the courses. The monastic campus is accessible to everyone.
Location: Kopan hill; 20 minutes' drive from city center
Time: 9 am to 5 pm; everyday
Entry fee: Free
Local foods of Kathmandu
Due to the numerous communities that have migrated to Kathmandu over the years, the city boasts a diverse and distinctive food culture. Without having some local foods, a trip in Kathmandu will remain incomplete. Here are the top 5 must try items of Kathmandu:
Dal Bhat:
Dal Bhat is the national food of Nepal. When you are visiting Kathmandu or any part of Nepal, Dal Bhat is one of the must try items for you. It is made of lentils or beans, vegetables with some unique species.
Chatamari:
Chatamari, a traditional dish of Kathmandu, is also called Nepali pizza.It is prepared with a range of savory toppings, including minced beef, eggs, chopped onions, fresh coriander, and a number of different species. Fresh tomato pickles are also given with the dish.
Sel Roti:
Sel roti, a type of doughnut popular in Nepal, is made from rice flour that has been sweetened and deep-fried till it turns reddish brown. In many homes, people consume the crispy-textured, ring-shaped sweet bread for breakfast or as a mid-afternoon snack.
Momos:
Momos are the most popular dish of Nepal. Both locals and visitors to Nepal enjoy this meal a lot. Over the course of the year, Nepal has served a variety of Momo, including Chocolate Momo, Sadheko Momo, Kothey Momo, Open Momo, Tandoori Momo, Chilly Momo, and the juicy Steam Momo.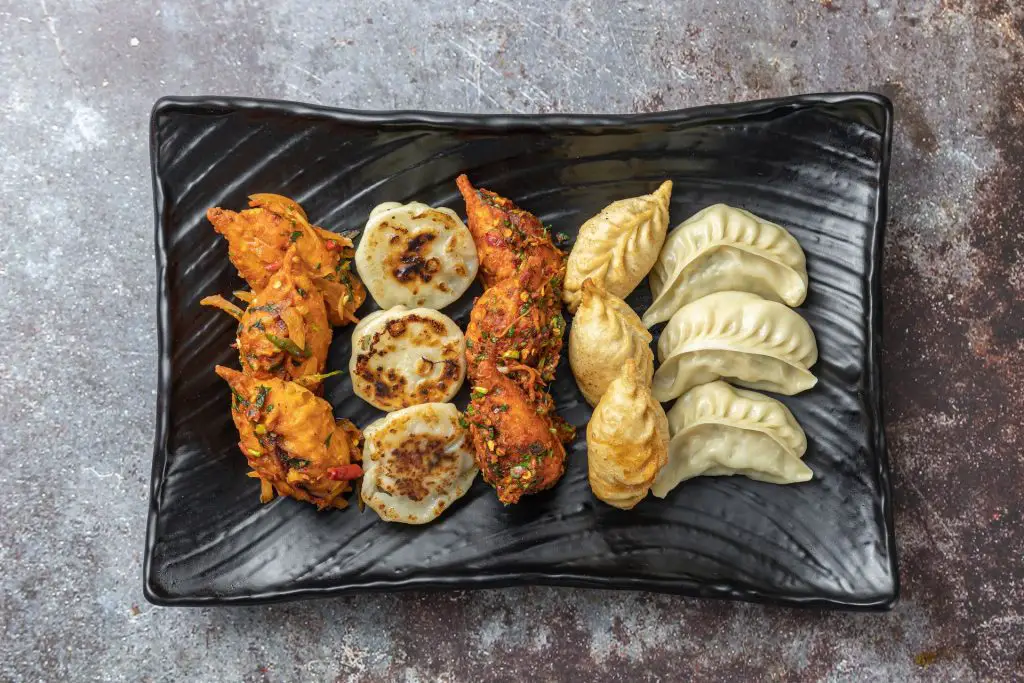 Panipuri:
Panipuri is a street food of Kathmandu. You will found it beside road everywhere in th city. The crunchy fried dough balls loaded with a potato, onion, and chickpea mixture are delicious. No one can resist the flavorful water of Panipuri.
Keep in mind when you are in Kathmandu:
Entering a Hindu temple requires authorization. Westerners may not enter many Hindu temples.
When entering a temple, don't forget to take off your shoes.