Phewa lake, the second largest lake in Nepal, is in Pokhara, Nepal. The Phewa lake is also known as Fewa lake. This lake is known for its freshwater and the breathtaking vistas of the Annapurna Mountains. The average depth of the lake is about 8.6 meters.
Location: 4 kilometers away from the city center
How to go to Phewa Lake
You can go to Phewa lake from any part of the world. You would initially need to fly to Kathmandu International Airport.
From Kathmandu:
Phewa lake is very accessible from Kathmandu, Nepal. You can hire a taxi or a car to reach the city center of Pokhara. Pokhara is almost 206 kilometers from Kathmandu. So, you can also go on a domestic flight from Kathmandu to Pokhara.
From Pokhara:
Phewa lake is 4 kilometers away from Pokhara city center and it's 7.6 kilometers from Pokhara Airport. From any part of Pokhara, you can go to Phewa lake by taxi or car. Some local buses are also available, most of them are from the city's center.
Places to visit in Phewa Lake
Phewa lake is one of the most visited places in Nepal. There are some popular tourist destinations in Pokhara.
World Peace Pagoda:
Phewa lake is home to the World Peace Pagoda. Amid Phewa Lake, on a little island, is where you'll find this iconic Buddhist shrine.
This pagoda was built to promote world peace. This white stupa is embellished with fine sculptures and Buddha figures. The lovely grounds that surround this pagoda have also drawn tourists' attention.
Lakeside Pokhara:
Lakeside Pokhara is on the western shore of Phewa Lake. Numerous hotels, eateries, and retail establishments may be found here. This place is known for its amazing view of the lake and the mountains.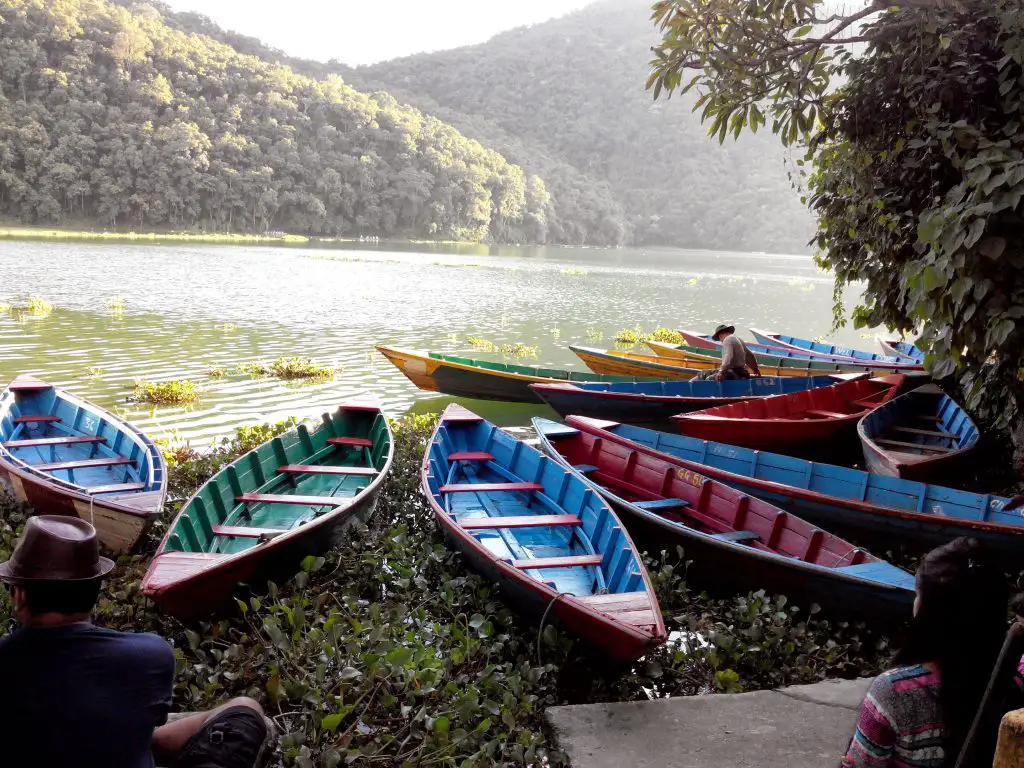 International Mountain Museum:
This museum is near the lake. It is a great place to learn about the rich mountain heritage of Nepal. In this museum, there is also a library and a research center, where you can learn about the history of Nepal. It is a must-visit place for visitors.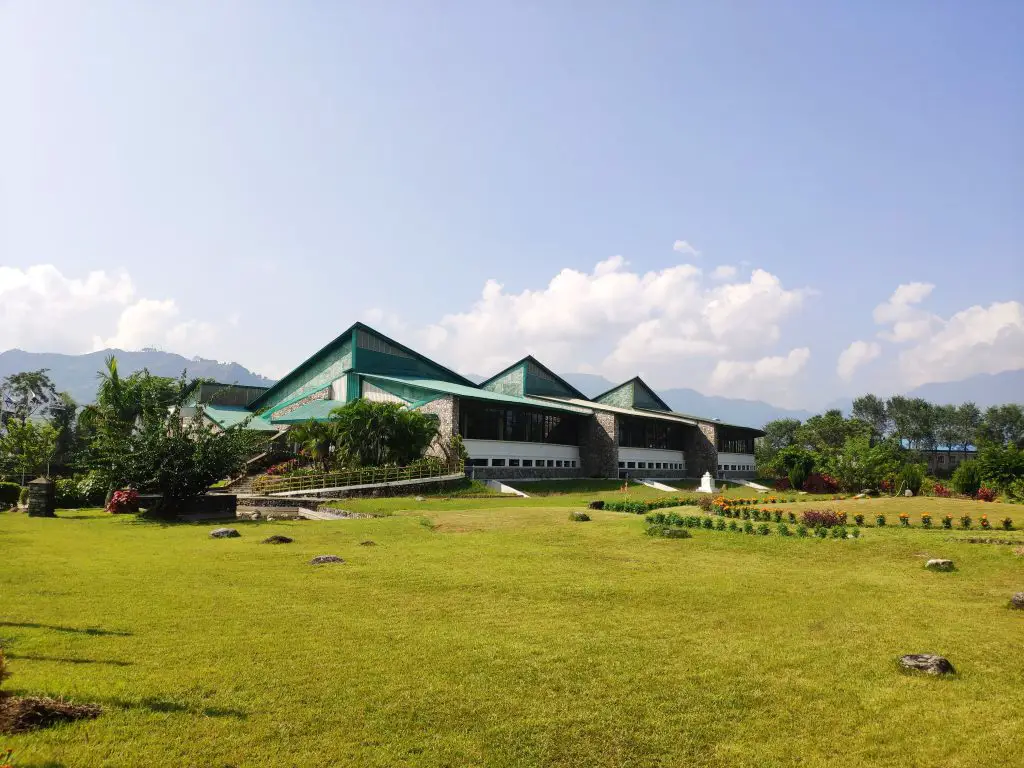 Annapurna Mountain Range:
Though Annapurna is almost 44 kilometers away from the lake (28 km is liner distance), you can witness a marvelous view of it. The reflection of Annapurna on the fresh lake water is lovely to see.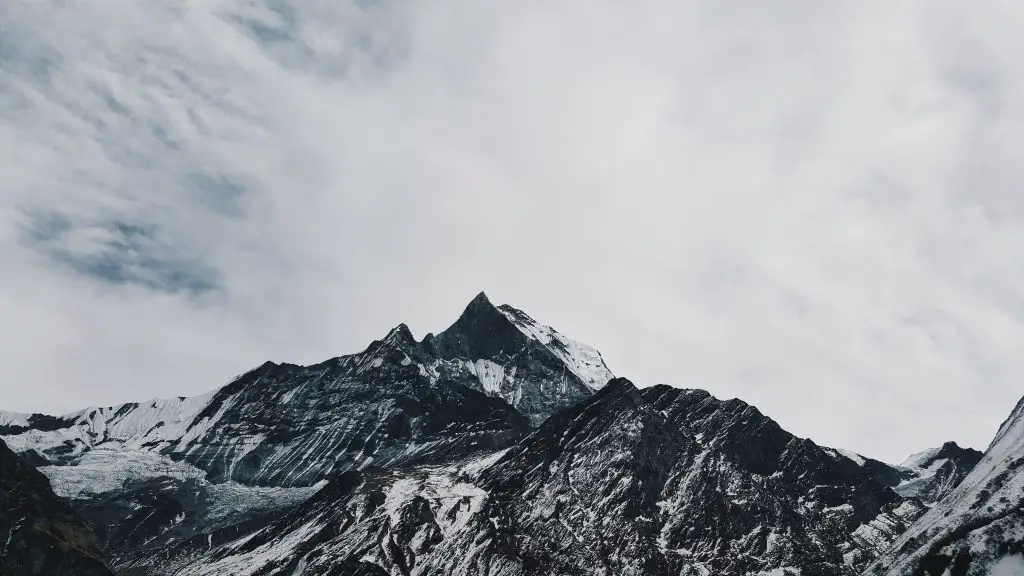 Phewa Tal Stadium:
The Phewa Tal Stadium is about 3 kilometers away from the lake. It is one of the popular venues for sporting events in Pokhara. The stadium is also used to arrange cultural programs in the region.
When you are looking for hotels to stay there, go to Phewa Tal Stadium. Because, this place is home to many hotels, shops, and restaurants.
Begnas Lake:
Begnas lake is a 30-minute ride from Phewa lake. This lake is also a natural freshwater lake. This beautiful lake is about 762 meters above sea level. While you are visiting Phewa lake, Begnas lake is a good option to travel.

Mehenda Cave:
Mehenda Cave is one of the best tourist spots in Pokhara valley, Nepal. It takes 20-25 minutes to reach this beautiful cave. Beautiful views of the surrounding hills, woodlands, and rice terraces are available as the path travels down the valley along a paved, largely level road.
Gupteshwor Cave:
Gupteshwor cave is also known as Gupteswar Cave. This is a holey cave dedicated to the Hindu god Shiva. It takes up to 40 minutes to reach this stunning cave by taxi or private vehicle. There are also some local buses available.
Things to do in Phewa Lake
Boating:
Phewa lake is one of the popular spots in Nepal for boating. There are several types of boats available for hire at the lake. Every boat has a unique color, and it makes them more beautiful for visitors.
It is even more remarkable to the tourists because of the stunning surroundings and the way the mountains are reflected in the lake.
Price: Rs. 500 per hour with a boatman.
Price: Rs.450 per hour if you paddle yourself.
Fishing:
Fishing is a popular activity at Phewa lake. To go fishing, you will have to hire a boat and bring your fishing gear. You may make all the plans and get all the equipment you need by hiring a local guide, who will also handle all the logistics.
Hiking:
Hiking is another fun activity at Phewa lake. To go hiking, you may hire a tourist guide to get the best experience. There are several places near Phewa lake to go trekking, such as-Poon hill, Begnas lake, and many more.
Photography:
The stunning views of the mountains, forests, and rich paddies made Phewa lake a popular spot for photographers. There are some eye-catchy natural places and some man-made places too.
You have a great chance to take stunning landscapes, portraits, and natural photographs when you are visiting the Lake.
Birdwatching:
Birdwatching is a popular activity in this lake. A variety of birds live around the lake. The greatest times to go birdwatching are early in the morning or late in the day. When you go birdwatching, it is advised that you bring a pair of binoculars.
Things to keep in mind
Be respectful to the birds and their habitats. Stay on marked trails and maintain a safe distance from the birds.
As the lake is an important natural resource it is important to take care of it. Be mindful about leaving no trace and properly disposing of waste.