Victoria Memorial Kolkata, a monument in memory of the Late Queen Victoria, is one of the most popular tourist destinations in Kolkata. Queen Victoria died of a cerebral hemorrhage in 1901, at 81. Several international tourists come to Kolkata to visit this architectural masterpiece. Victoria Memorial is in West Bengal's capital city, very close to Park Street, and Maidan.
A Brief History of Victoria Memorial
The building process of this vast marble monument started in 1906 and was finished 15 years later, in 1921. After the queen died, the viceroy of India, Lord Curzon, planned to build this memorial palace to preserve her memories. Since then, the palace has been known as "Victoria Palace".
Although the palace is inspired by Italian Architecture, some domes imitate Mughal Architecture. People may mistake the palace for Taj if they have never been to Taj because of the Mughal influence on the architecture. The monument was designed by British Architects Sir William Emerson and Sir Vincent Esch. Lord Redesdale and Sir David Prain.
During the 2nd world war in 1943, The British Monarchy covered the monument to save it from possible air attacks by Japan. So, they cloaked the monument with bamboo scaffolding and coated it with mud and cow dung. Later in 1992, Indian government added the National Leaders gallery to the original structure to portray the history of Kolkata.
Inside the Monument
Different parts of the palace have different things to offer. Let's take you inside to give you a better understanding of the palace.
The Garden:
Victoria Memorial has a vast garden of 26 hectares and a team of 21 gardeners to look after the garden area. George Frampton sculpted a statue of Queen Victoria in the garden. There is a Memorial Arch on the southern part of the garden in memory of King-Emperor Edward VII. Besides, there are statues of British administrators all over the garden. The garden is home to over 80 species of trees and 6 water reservoirs.
Timing: 05:30 am–06:00 pm
Entry Fee:

Onetime Visit (Indians): INR 20
Morning Walkers above 60 (Annual): INR 1,000
Morning Walkers (Others) (Annual): INR 2,000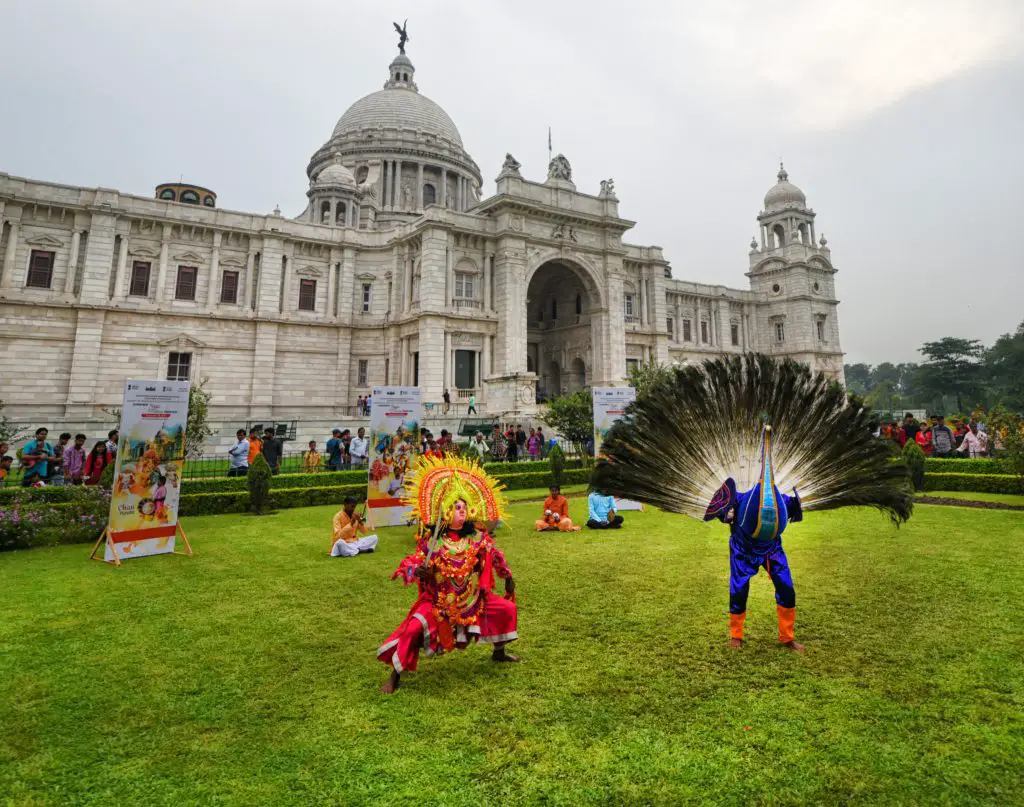 Memorial Hall:
There is an enormous dome on the top of the palace that resembles the dome of the Taj Mahal. There are some metaphorical sculptures around the dome, for example, architecture, art, charity, justice, prudence, learning, and motherhood curved as names on the sculptures.
Gallery:
There are 25 galleries inside the gallery, including The Royal Gallery, National Leaders Gallery, Portrait Gallery, Central Hall, Arms and Armory Gallery, Sculpture Gallery, and Kolkata Gallery. There is a gallery for coins and stamps as well.
The Gallery contains Thomas Daniell and his niece William Daniell's highest number of artworks. There are also some books by William Shakespeare and other famous writers. You will also see some portraits of Queen Victoria and Prince Albert and an overview of their life painted by Johnson and Winter Halter.
The Gallery is a great display of Queen Victoria's life as it holds some furniture that Queen Victoria used and paintings of important moments of her life. There is a rosewood-made piano and her desk. You will see paintings of her royal debut in Westminster Abbey, her wedding with Prince Albert, naming the Prince of Wales at Windsor Castle, the Wedding ceremony of Prince Edward VII and Princess Alexandra, the Golden Jubilee of her reign in Westminster Abbey, and her painting in St. Paul's Cathedral.
Address: 1, Queens's Way, Kolkata
Timing: 10:00 am – 05:00 pm
Entry Fee:
Indians: INR 30

Foreigners (SAARC): INR 100
Other Nationals: INR 500
Students up to Class XII (Uniform): Free
Army Personnel: Free
Light & Sound Show:
The palace hosts a laser and light show every evening to portray the culture and history of Kolkata to visitors. The show goes by the name of "Pride and Glory-The Story of Calcutta". They organize the show in both Bengali and English. Victoria Memoria hosts the show every day except Monday and other national holidays.
Timing:

October-February (Bengali): 06:15 pm-07:00 pm
March-June (Bengali): 06:45 pm- 07:30 pm
October-February (English): 07:15 pm-08:00 pm
March-June (English): 07:45 pm-08:30 pm
Ticket Price:

Bengali: INR 10
English: INR 20
Getting to Victoria Memorial Kolkata
You can easily go to Victoria Memorial from anywhere in Kolkata by riding on a bus to Maidan or Rabindra Sadan. You can walk the rest of the way. If you want to go by Metro, then get a ticket to Maidan or Rabindra Sadan and walk the rest of the way.
Metro to Rabindra Sadan
Kavi Subhash Metro Station: Noapara to Rabindra Sadan
Bus network: C-11, C-20, E-7/1, S-45, S-39A, AC-20, AC-44, AC-12 to Exide More
10 Amazing Facts About Victoria Memorial Kolkata
The total construction cost of the monument was around 129 Grands (in US Dollars). But The British Government did not spend a penny.
Rajasthani marble stone was used in the construction of the palace. Only the ground floor covers 7160 square meters.
The total area of Victoria Memorial with a garden is 26 hectares.
There are a total of 25 galleries inside the palace.
A 17 miles long train track was built for transporting construction materials.
The palace weighed around 80,300 tons at that time and a whopping 500 cubic meters of marble stone was used in total during the construction.
The palace is home to more than 29000 artifacts including 4000+ paintings.
There is a 16 feet high bugle on the top of the monument with a statue of the queen (Angel of Victory),
Before the establishment of this palace, the site was home to the Kolkata Presidency jail.
The palace hosts light shows in the evening on important occasions.
NB: Please throw trash in trash cans wherever you go and help to keep the environment clean.