Cox's Bazar, the tourism capital of Bangladesh, is known for its sea beaches and natural resources. The city owns the longest unbroken coastline in the world, locally known as Cox's Bazar Sea Beach. It is the Southernmost district of Bangladesh. Cox's Bazar town has an area of around 9.034 Square miles. The city was previously known as Palongkee. It got its current name from Captain Hiram Cox, a British Indian Army Officer.
As I mentioned earlier, Cox's Bazar is the tourism capital of Bangladesh. It has many places to visit. But I will mention some of the city's major attractions, which you should never miss during your trip. So here goes the top places you should visit in Cox's Bazar:
Kolatoli Beach:
Kolatoli is the entry point of Cox's Bazar town. All Intercity buses will leave you here. As you get off the bus, you'll hear the roar of the sea. It's a one-minute walk from the bus stop to the beach. Kolatoli beach is one of the less crowded beaches, as it is on the edge of the town.
Sugandha Beach:
Sugandha beach is probably the most popular beach in Cox's Bazar, along with Laboni point. The Hotel zone is in front of it. It's a five-minute drive and a fifteen-minute walk from Kolatoli beach. The beach is near the Hotel zone and stays crowded from dawn to midnight. You'll find some temporary stores and refreshment zones here. There is an arrangement for lockers if you want to get yourself wet in the sea. If you wish to adventure, you'll find some beach rides, horses, and speedboats.
Laboni Point:
It's probably the city's most organized and cleanest beach. It's a little farther from the Hotel Zone, but only a ten-minute walk from Sugandha beach. Laboni Point has similar facilities to Sugandha beach. Here you will find a permanent Burmese market, where you can buy different souvenirs to remember your trip. You will also find various products cheaper than in the local market.
Stay away from photographers. They will rob you in daylight in the name of photos. If you hire them for 50 shots, they will click random images without acknowledgment and charge you for those photos. So, bargain a deal where you will only pay for the pictures you like. The charge is $1 for 20-25 photos, depending on your negotiation skills. These three beaches also have a sitting facility in umbrella-shaded chairs, which you can hire hourly ($0.40/hour).
Inani Beach:
Inani is one of the cleanest beaches in Cox's Bazar. It's far away from the town siding of the 120 km Marine drive. If you come with a group, you can hire an auto rickshaw (battery cars) for the entire ride, which will cost you around $10. But, if you are a lone traveler like me, you can also get there riding local autos for $1 one way.
Like every other beach in the city, you will get the same facilities here excluding the paid locker. But instead, you will get something much better. The beach is filled with rocks and corals. So, you will get a little taste of Cox's Bazar without even going there. Usually, the water in Inani beach is more aquatic than the others.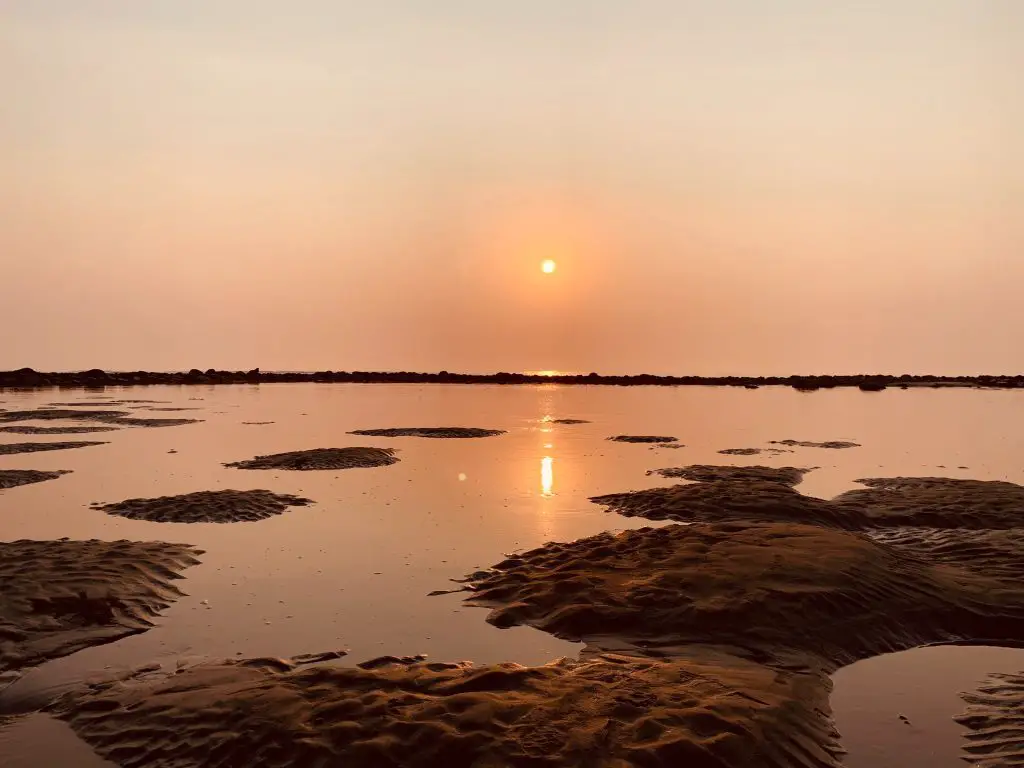 Himchori waterfall:
Himchori is one of the most visited tourist destinations in Cox's Bazar. The place is 7.5 mile away from the Cox's Bazar city and 3.2 miles away from Kolatoli Mor. You will find Himchori midway on your way to Inani Beach. You will have to buy a ticket to enter the spot, which will cost you $0.30. It is the only place in the city where you can enjoy both the roaring sea and the scenic mountains all at once.
Once you enter the spot, you will see a set of stairs going somewhere. You'll have to climb around 240 stairs to get to the top. These stairs will lead you to the top of the hill, where you will see a beautiful landscape that includes the blues of the sea and the greens of the hills. Once you get down the stairs, move a little bit forward following the path and you'll find the Himchori Waterfall. The waterfall gets dried up in the winter. But, if you visit in the monsoon, you will enjoy the overflowing beauty of this incredible cold-water waterfall.
Ramu Golden Temple:
Ramu has become a popular tourist attraction in the last few years. This is after the inauguration of the Ramu Golden Temple, locally known as U chit San. It is in the Ramu sub-district, which is a 25-minute drive from the center of the city. This place became popular after the Bangladesh government rebuilt it after the horrendous attack by some militants in 2012. Here you will find the 30.48 meters long golden colored statue of Lord Buddha, which is the third largest Lord Buddha statue in the world. You can hire autos or baby taxis (locally known as CNG) for going to the temple at $3. You can also share the ride with local people, which will cost you $0.50.
Moheshkhali:
Maheshkhali is the only hilly island of Bangladesh. It has an area of 140 Square miles. The island is connected with Cox's Bazar mainland by the Maheshkhali bridge. The island was named after Buddhist Sen Maheshwar.
In addition to its hilly terrain, Moheshkhali is fringed with mangroves. There is a sense of simplicity about the island and its people. The island is famous for its salt and Dry fish production. The main attraction of Maheshkhali island is the Adinath Temple. As a result, Hindu pilgrims flock to Adinath Temple every year to commemorate a sacred occasion.
The tourists are patiently offered exclusive tours of the island by some rickshaw drivers. Hilly places, mangrove forests, and low range hills can all be seen in their natural state by tourists. Other interesting locations include a Buddhist temple, an Adinath shrine on a hill, a salt field, Sonadia Island, etc.
You can visit the island either by speedboat, trawler or auto and CNGs. Unless you have sea sickness, I would suggest you go by speedboat. You will have to Kostury Ghat and draw a ticket which will cost you around $1 each way. The journey takes 25 minutes on a speedboat and 40 minutes on a trawler. If you are considering a road journey, then you can book CNG and microbuses for a day which will cost you around $20 pick and drop, and they will take you there.
Radiant Fish World:
We all have seen the multi-storied aquarium in Dubai. What if I tell you someone attempted to make something similar in Bangladesh? Well, this may not look like the Dubai Mall Aquarium, but it is something. Radiant fish world is the first and only commercial fish aquarium in Bangladesh. The aquarium hosts around 200 species of underwater beings including but not limited to sharks, snakes, piranhas, betel leaves, turtles, and crabs.
The aquarium is in the Jhautola region of the city. You can go there on all available public transport. It will cost you around $1 to reserve an auto. The entry fee to the aquarium is $3, but most of the time you will get around 25-50% discount depending on the demand. Children under 3.5 feet don't need a ticket to visit the place. Radiant fish world stays open to visitors from 9 am to 10 pm.
Location: Jhawtola Main Road
Timings: 9:30 am – 9:00 pm
Entry Fee:

Adults: 300 Taka
Children upto 3'5″ : Free
Dulhazra Safari Park:
Bangabandhu Sheikh Mujib Safari Park, locally known as Dulhazra Safari Park, is also a popular tourist destination. It is in Chakaria, 34 km North of Cox's Bazar city. It contains separate sanctuaries for different animals. As this park is far away from city, you will have to hire a microbus to go there. There are no hotel facilities, so you will have to return to Cox's Bazar city after the visit.
The safari park was built in 8 separate blocks. This was meant to be a deer only sanctuary but they expanded it for other animals too. Here you will see lions, tigers, beer, hippopotamus, elephant, Gayal(Drung Ox), alligator and birds. There are a total 362 species of animals and birds. Besides, There are some shades in every block where the animals can rest. You will also see a orchid house and a Natural History Museum. Check out their website to learn more.
Location: Dulhazra, Chakaria.
Timings: 9:00 am – 5:00 pm
Entry Fee: 50 BDT
Sonadia Island:
Sonadia Island is part of the greater Maheshkhali Island, but a narrow canal separates it. The island has an area of 3.50 square miles. This is an ideal spot for camping. The island has 2 parts, East Sonadia and West Sonadia. What attracts people to the island most is this is a sanctuary for red crabs. The crabs get out from their holes as soon as the sun rises and roam like it is their kingdom. Besides, this island is an ideal place for turtles to lay eggs.
You must go to Maheshkhali first in order to visit Sonadia Island. Take a rickshaw from Maheshkhali Ghat and go to Gorokghata. Rickshaw fare costs around 25 cents (BDT 20). Then, go to Ghati Bhanga, which is 24 km away from Gorokghata. You can take CNG to go to Ghati Bhanga, which will cost you around $2 or BDT 160. Finally, you'll have to hire a motorboat to go to Sonadia. You can cross the canal on foot if you wish when it is low tide, but why take the extra hassle?
Kutubdia Island:
Kutubdia is mostly famous for The Light House, which was established during British rule. This island is also one of the largest islands in Bangladesh where you can see a lot of sea birds roaming around. This island is famous in Bangladesh for producing salt and Dry fish.
There are some small hotels and a rest house on this island. But if you want a beautiful view of the island, then we recommend you stay in the rest house, which costs around 2 dollars (200 BDT) per night.
St. Martin's Island is the only coral island in Bangladesh. It is situated 20 nautical miles south of the Teknaf Mainland. You can go there from the Cox's Bazar city directly or you can go to Teknaf and board from there. Whatever way you choose, buy ship tickets beforehand. Only one ship departs from Cox's Bazar BIWTA Ghat, while seven ships depart from the Teknaf Jetty.
If you're visiting with family, you should go directly from Cox's Bazar, but if you are traveling solo, I would suggest you take the long route and go from Takenaf. Trust me, you won't regret the extra hassle once the ship starts moving through the Teknaf river. It's a 3-hour journey from Teknaf and a 6-hour journey from Cox's Bazar. Once you enter the Bay of Bengal, you will forget all hassles in no time.
If you are planning to go from Cox's Bazar, you will have to go to BIWTA Ghat and get onboard. You can buy tickets on the spot if you want, but the safer choice would be booking tickets beforehand. Just ask in the reception of whatever hotel you're staying in, they will book tickets for you. Ticket prices start from $30 and can go up to $220. But, if you want to go from Teknaf, you'll have to reach Teknaf before 9 am to board the ship. You will find 6-7 ships in Teknaf, prices ranging from $8 to $20.
How to go to Cox's Bazar Sea Beach
By Road:
You can go to Cox's Bazar from anywhere in Bangladesh. There are direct buses available from most of the districts. But, even if you can find a direct bus, you can always come to Dhaka and then go to Cox's Bazar. There are numerous bus operators who offer direct trips to Cox's Bazar. Whichever operator you choose, they will drop you in Kolatoli Mor, Cox's Bazar.
Assuming you are in Dhaka, there are 2 central locations from where the buses depart, Abdullahpur and Arambagh. You can book tickets from all over Dhaka but it's better to start your journey from the central counters. If you are in Chittagong, go to Dampara or Alongkar. You will find multiple operators there, and you don't have to book your tickets beforehand, because a new bus departs every half an hour.
By Air:
Cox's Bazar is one of the few cities in Bangladesh where you can go by air. You can go to Cox's Bazar by air from Dhaka, Chittagong, Sylhet, Saidpur, Rajshahi, Barishal and Jessore. Fares vary from $40 to $100 dollars depending on the route. But you will have to book your tickets beforehand. Otherwise, you will have to buy from the illegal market at an increased rate.
There are 3 operators on this route. Biman Bangladesh Airlines, US Bangla Airlines and Novoair. Arrive at the airport at least two hours before the flight if you are in Dhaka considering the traffic. After landing, get out from the airport and hire a CNG or Auto to Kolatoli Hotel Zone. This will cost you around $1 dollar or BDT 80.
Conclusion
Cox's Bazar is one of the most beautiful places in Bangladesh. This is the place that brings most international tourists to Bangladesh. This may not be the best tourist spot in Bangladesh cost wise, But the people here are friendly and welcoming. This place is portraying the hospitality and culture of Bangladesh to a global audience. The government is trying to implement new facilities to attract more international tourists, but that's not enough. If they can make proper improvements to facilitate tourists, Cox's bazar has the potential to be one of the most visited tourist destinations in the world.