Lalitpur, commonly known as Patan, is a city in Nepal. This city is often overshadowed by its more prominent neighbor, Kathmandu. Nevertheless, Lalitpur is a treasure trove of historical and cultural attractions, waiting to be explored by eager tourists. In this post, we will try to take you to the top sites to visit in Lalitpur. So that you can make the most of your trip.
When it comes to travel, straying off the main road and discovering lesser-known destinations can lead to exceptional experiences. Lalitpur is one such place that promises a different experience than more popular attractions. While most tourists rush to Kathmandu, Lalitpur provides a quieter and more authentic traveling experience. So, without further ado, let's journey into the fascinating land of Lalitpur and discover its hidden gems.
Historical and Cultural Significance of Lalitpur
Lalitpur has a rich historical and cultural legacy that reaches back to ancient times. The city's beginnings may be traced to the Licchavi period, making it one of the oldest cities in the Kathmandu Valley. The ancient city of Patan, also known as Lalitpur, was a bustling hub of art, architecture, and trade. Today, it stands as a tribute to the craftsmanship and architectural skill of the Newar people.
The ancient city of Patan
Patan, the centre of Lalitpur, was a UNESCO World Heritage Site famed for its well-preserved architectural marvels. As you travel through its small alleys and vivid squares, you'll meet countless of temples, palaces, and courtyards that reflect the city's magnificent past.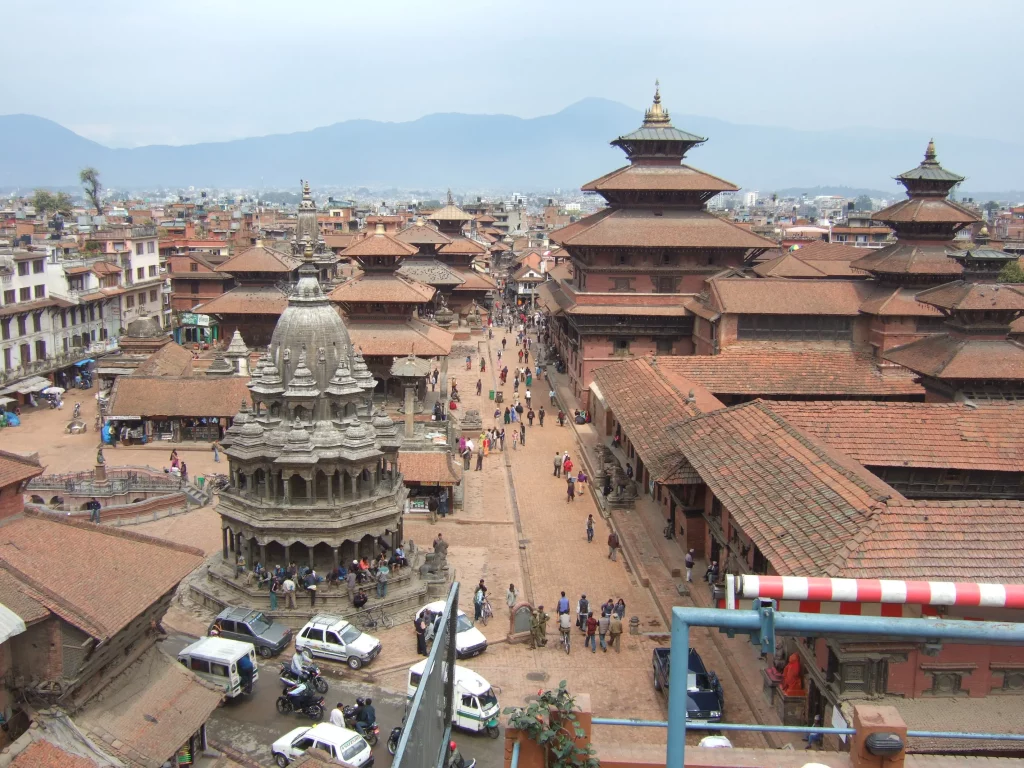 Rich legacy and architectural wonders
Lalitpur boasts a remarkable array of historic temples, pagodas, and palaces, showing beautiful wood carvings, stone sculptures, and metalwork. The city's architecture is highly influenced by Newari workmanship, highlighted by elaborate details and unusual designs.
Durbar Square and its attractions
The Patan Durbar Square of is a must-visit location for history and culture enthusiasts. It houses various important sites, including the Krishna Mandir, Bhimsen Temple, Taleju Bell, and the statue of King Yoga Narendra Malla. Each structure tells a tale and offers an insight into the city's storied past.
Temples and pagodas showing great craftsmanship
Lalitpur is peppered with various temples and pagodas, each an architectural gem in its own right. The Golden Temple, also known as Hiranya Varna Mahavihar, is a famous Buddhist monastery embroidered with gold-plated roofing and beautiful decorations. It bears enormous religious importance and is a sight to behold.
Exploring Durbar Square
Patan Durbar Square is the hub of Lalitpur and serves as the appropriate starting place for your exploration of the city. The area is a lively hive of activity, with its old temples, palaces, and courtyards showcasing the grandness of the Malla dynasty.
| | |
| --- | --- |
| Visitors & Others Categories | Entrance Fee with VAT |
| Foreign visitors | NRs. 1000 |
| SAARC visitors | NRs. 250 |
| Nepalese Visitors | 30 |
| Nepalese Students | 10-20 |
Intricate wood carvings and stone sculptures
As you puty your first steps into Durbar Square, you'll be charmed by the magnificent wood carvings that grace the traditional Newari buildings. These complex carvings portray diverse mythological creatures, gods, and animals, symbolizing the rich cultural legacy of the region. The stone sculptures located throughout the area add to the architectural grandeur and provide a look into the artistic prowess of the Newar community.
The Golden Temple
One of the notable sights within Durbar Square is the Golden Temple, commonly known as Kwa Bahal. This three-story monastery is an architectural masterpiece, with its golden roofs, intricate woodwork, and peaceful courtyards. The Golden Temple carries enormous religious significance Buddhists and is a haven of calmness.
| | |
| --- | --- |
| Visitors & Others Categories | Entrance Fee with VAT |
| Foreign visitors | NRs. 50 |
| SAARC visitors | NRs. 20 |
| Nepalese Visitors | Free |
| Nepalese Students | Free |
Krishna Mandir
Another architectural beauty in Durbar Square is the Krishna Mandir. This majestic temple dedicated to Lord Krishna shows the finest examples of Newari architecture. The temple's elaborate carvings, delicate stone work, and superbly carved statues make it a sight to behold.
The Patan Museum
Located within Durbar Square, the Patan Museum is a must-visit location for art enthusiasts and history buffs. Housed in a beautifully renovated Malla palace, the museum showcases a spectacular collection of art, artifacts, and sculptures that span millennia. From ancient statues and religious treasures to traditional paintings and metalwork, the Patan Museum offers a thorough glimpse into the city's aesthetic and cultural legacy.
| | |
| --- | --- |
| Visitors & Others Categories | Entrance Fee with VAT |
| Foreign visitors | NRs. 1000.00 |
| SAARC visitors | NRs. 250.00 |
| Nepalese Visitors | NRs.30 |
| Nepalese Students | NRs.15.00 |
Discovering Traditional Arts and Crafts
Lalitpur is recognized for its ancient arts and crafts, which have been passed down through centuries. Exploring the city's thriving art scene provides an opportunity to experience the ingenuity and talent of local craftspeople.
Traditional metalwork at the Patan Industrial Estate
The Patan Industrial Estate is a hotbed of traditional metalwork, where talented craftsmen make beautiful sculptures, monuments, and household items using age-old techniques. Visitors may see the metalworking process and even try their hand at constructing their own masterpiece. The Patan Industrial Estate is a tribute to the city's commitment to preserving its rich artistic traditions.
The ancient art of Thangka painting
Thangka painting is a traditional art form that started in Nepal and has gathered worldwide praise. These elaborate paintings often portray Buddhist deities, religious settings, or mandalas and are created utilizing painstaking brushwork and brilliant colors. Lalitpur is home to various Thangka painting workshops and galleries where tourists can observe the painters at work and even purchase these magnificent artworks.
Pottery and ceramics
The Malla dynasty's effect on Lalitpur's art and culture is visible in the city's pottery and ceramics legacy. Pottery workshops can be found throughout Lalitpur, where expert potters mould clay into exquisite containers and decorative pieces. Visitors can join in pottery lessons, learn about the traditional processes, and appreciate the beauty of these handcrafted products.
Spiritual Escapes in Lalitpur
Lalitpur is a spiritual retreat, with various sacred locations that gives you a escape from the hustle and bustle of ordinary life. These spiritual locations allow tourists to immerse themselves in the city's religious traditions and find inner calm.
The sacred Swayambhunath Stupa
Perched atop a hill on the western border of the Kathmandu Valley, Swayambhunath Stupa is one of the most revered Buddhist pilgrimage sites in Nepal. Also known as the "Monkey Temple," it offers panoramic views of the surrounding valley and a soothing ambience. Visitors can walk around the stupa, spin the prayer wheels, and soak in the spiritual aura of this sacred location.
| | |
| --- | --- |
| Visitors & Others Categories | Entrance Fee with VAT |
| Foreign visitors | NRs. 200.00 |
| SAARC visitors | NRs. 50.00 |
| Nepalese Visitors | Free |
| Nepalese Students | Free |
Bungamati village
Just a short distance from Lalitpur sits the picturesque town of Bungamati, famed for its serene environment and unique Newari architecture. The community is home to the famed Rato Machindranath Temple, which houses the deity believed to bring rain and prosperity. Exploring the small alleyways and old buildings of Bungamati offers a glimpse into the simplicity of rural life and allows tourists to connect with the spiritual essence of the hamlet.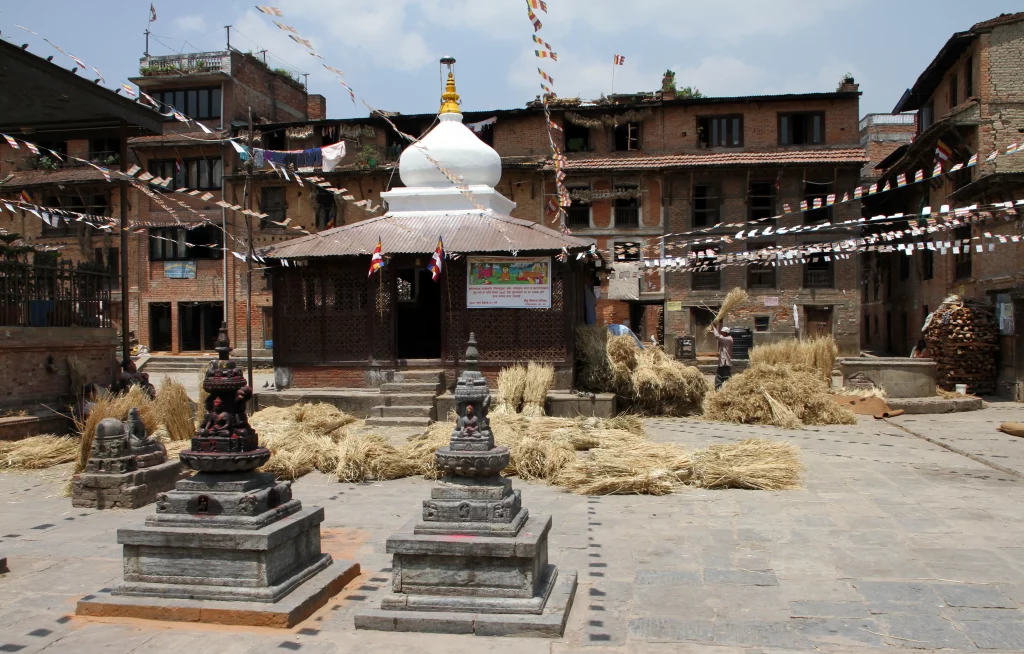 The iconic Boudhanath Stupa
Located on the outskirts of Lalitpur, the Boudhanath Stupa is one of the holiest Buddhist sites in Nepal. This huge stupa is draped with prayer flags, prayer wheels, and multiple monasteries, creating a colorful and spiritually charged environment. Visitors can join the locals in practicing kora (circumambulation) around the stupa or participate in meditation and chanting sessions in the monasteries.
| | |
| --- | --- |
| Visitors & Others Categories | Entrance Fee with VAT |
| Foreign visitors | NRs. 400.00 |
| SAARC visitors | NRs. 100.00 |
| Nepalese Visitors | Free |
| Nepalese Students | Free |
Kopan Monastery
Situated on a mountaintop overlooking the Kathmandu Valley, Kopan Monastery is a renowned center for Buddhist study and meditation. The monastery offers retreats and meditation courses for those seeking a deeper understanding of Buddhism and an opportunity to achieve inner serenity. The calm settings and the supervision of seasoned monks make Kopan Monastery a perfect destination for spiritual contemplation and self-reflection.
Natural Beauty and Outdoor Activities
Beyond its historical and cultural attractions, Lalitpur is blessed with natural beauty and offers various options for outdoor adventures and exploration.
Exploring the Godavari Botanical Garden
Located at the foothills of the Phulchowki Mountain Range, the Godavari Botanical Garden is a retreat for nature enthusiasts. The garden is home to a broad assortment of plants, including rare and exotic species. Visitors can take leisurely stroll along the meandering roads, breathe in the fresh mountain air, and wonder at the beauty of nature.
| | |
| --- | --- |
| Visitors & Others Categories | Entrance Fee with VAT |
| Nepali Citizens aged 10 years or less | NRs. 20 |
| Nepali Citizens aged above 10 years | NRs. 50 |
| SAARC Citizens (under 10) | NRs. 100 |
| SAARC Citizens (over 10) | NRs. 200 |
| Foreigner (under 10) | NRs. 500 |
| Foreigner (over 10) | NRs. 1000 |
| Students | NRs. 20 |
Picnic sites and leisure areas
Lalitpur provides various picnic places and leisure locations where visitors can relax and unwind amidst nature. From parks and gardens to riverbank settings, there are lots of options to enjoy a leisurely picnic with family and friends. These sites give a pleasant escape from the city's noise and allow tourists to interact with nature.
Experiencing Local Cuisine
No vacation to Lalitpur is complete without treating yourself with its delectable native cuisine. The city's culinary culture offers a diverse tapestry of flavors, merging native Newari foods with influences from other Nepali regions.
Authentic Newari cuisine
Newari cuisine is noted for its intense flavors and creative mixes of ingredients. From the famed Newari feast, " Lakhamari," to specialities like "Choila" (spiced grilled beef) and "Yomari" (a sweet rice flour dumpling), there is a wealth of gourmet delights to taste. Visitors can explore local eateries and traditional Newari homes to enjoy the real flavors of Lalitpur.
Popular cuisine places Lalitpur
Lalitpur has a range of dining alternatives, from streetfood booths to modern eateries. The city's cuisine outlets are noted for their variety offers, catering to all tastes and preferences. Visitors can enjoy traditional Nepali delicacies, junk foods, and fusion creations, all prepared with fresh local ingredients. Whether it's momo booths, charming cafes, or gourmet eating facilities, Lalitpur is ready to fulfill your appetite.
Must-try meals and street food
While exploring Lalitpur, don't miss the chance to eat some of the must-try foods and street cuisine specialties. Indulge in steaming bowls of momo, a famous Nepali dumpling filled with meat or vegetables and served with spicy dipping sauce. Savor the delights of "chatamari," a rice pancake topped with various toppings including minced meat, eggs, and veggies. Treat your taste buds to "kwati," a traditional mixed bean soup, and satisfy your sweet desire with "juju dhau," the famed Newari yogurt.
Festivals and Cultural Celebrations
Lalitpur is not limited to visiting places and tasty foods. It also offers a glimpse into their culture by celebrating a lot of festivals. These festivals introduce us to the lifestyle of locals of Lalitpur.
Bisket Jatra Festival
Bisket Jatra is one of the most prominent and vibrant events celebrated near Lalitpur. It takes place during the Nepali New Year and is celebrated by a variety of rituals, processions, and chariot pulling. The event finishes with the installation of a tall wooden pole, known as "Yoh si Diyo," amidst much hoopla and revelry. Bisket Jatra provides an opportunity to experience the city's lively culture and participate in age-old traditions.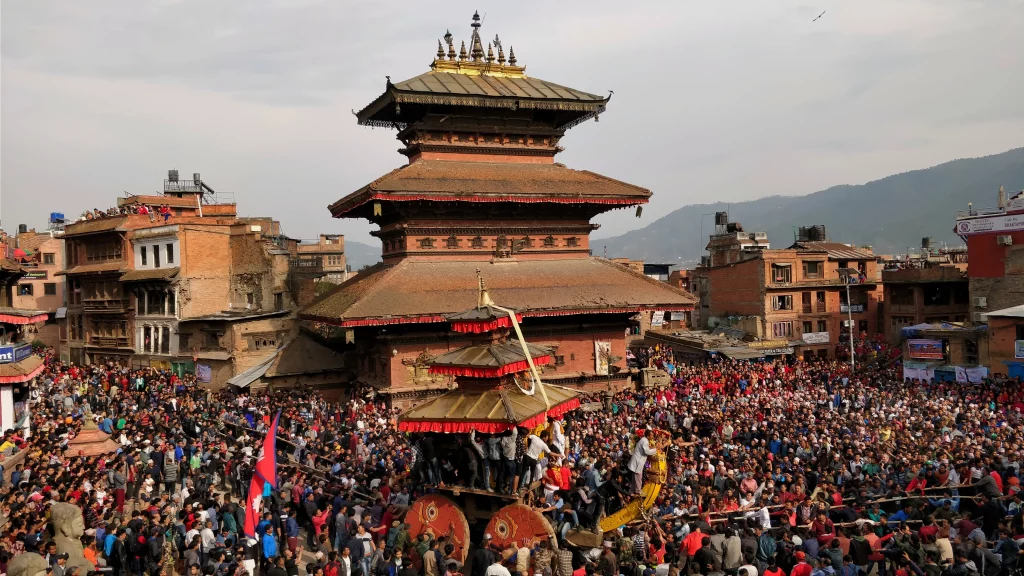 Rato Machindranath Jatra
Rato Machhindranath Jatra is another prominent festival celebrated in Lalitpur. It is dedicated to the deity Machindranath and is said to bring good fortune and rain to the city. The highlight of the event is the procession of the chariot bearing the deity through the streets of Lalitpur, accompanied by music, dance, and ardent followers.
Cultural dances and performances
Lalitpur is home to a rich performing arts scene, with cultural dances and traditional performances being a vital part of the city's past. Visitors can watch captivating dance forms like "Lakhey," performed by masked dancers. The rhythmic beats of traditional drums and lyrical sounds of traditional instruments contribute to the appeal of these performances.
Traditional music and folk traditions
Lalitpur's rich cultural legacy is also reflected in its traditional music and folk practices. The city is noted for its distinctive musical instruments, such as the "sarangi" and "madal," which produce captivating tunes. Visitors can attend traditional music concerts, folk dance performances, and cultural displays to enjoy the strong musical traditions of Lalitpur.
Day Trips and Excursions from Lalitpur
While Lalitpur itself offers a wealth of attractions, it also acts as a convenient location for day trips and excursions to adjacent destinations. Let's explore a few of those places.
Bhaktapur
Located just a short distance from Lalitpur, Bhaktapur is another UNESCO World Heritage Site and a city steeped in history and culture. Known as the "City of Devotees," Bhaktapur is notable for its well-preserved medieval architecture, old temples, and attractive wood engravings. Exploring the small streets of Bhaktapur transports visitors back in time, affording a look into the city's enriched past.
Nagarkot
Nestled in the hills east of Lalitpur, Nagarkot is famed for its beautiful dawn and sunset vistas. The hill station offers breathtaking panoramas of the snow-capped Himalayas, including the famous Mount Everest on a clear day. Visitors can start on early morning walks to view the golden colours of sunrise or relax in one of the hillside lodges, absorbing in the calm ambience and capturing the beauty of nature.
Shivapuri Nagarjun National Park
For environment lovers and adventure seekers, a trip to Shivapuri Nagarjun National Park is a must. This protected area is a shelter for wildlife and is home to various flora and fauna. Visitors can embark on trekking paths, and perhaps observe uncommon animals like the red panda and leopard.
| | |
| --- | --- |
| Visitors & Others Categories | Entrance Fee with VAT |
| Nepali citizen | NRs. 100 |
| SAARC citizen | NRs. 600 |
| Other Foreigners | NRs. 1000 |
Chobhar
Chobhar, located on the outskirts of Lalitpur, is a lovely village recognized for its scenic beauty and historical significance. This village is notable for its valley, cut by the Bagmati River, affording beautiful views of the surrounding hills and valleys. Visitors can explore the historic Chobhar Caves, visit the Adinath Lokeshwor Temple, and enjoy the calm environment of this off-the-beaten-path site.
Accommodation Options in Lalitpur
When selecting lodging in Lalitpur, it's vital to consider variables such as location, amenities, and budget. Visitors can choose to stay in the centre of the city for easy access to attractions, or opt for a more isolated hideaway in the outskirts. It's recommended to study and read reviews to ensure that the chosen accommodation suits individual interests and delivers a comfortable and memorable stay.
Transportation and Getting Around
Lalitpur offers different transportation alternatives for moving around the city and experiencing its attractions. Understanding the local transportation system is vital for a seamless and convenient travel experience.
Local transportation alternatives
Lalitpur has a well-connected local transportation network, including buses, tempos (small public vans), and taxis. Buses are the most prevalent means of transportation and connect different regions of the city. Tempos are a popular choice for short distances and operate on defined routes. Taxis are a handy and pleasant method to navigate around Lalitpur and can be hired for longer journeys or private tours.
Hiring taxis and private vehicles
For additional flexibility and convenience, guests can elect to hire taxis or private vehicles for their transportation needs in Lalitpur. Several taxi servicesare offered, and bargaining regarding prices are typical. We recommend you to organize transportation through reliable firms or seek advice from trusted sources. You can also rent private vehicles, such as cars or motorcycles for self-driven exploration, although it's important to familiarize yourself with local traffic rules and road conditions.
Public transit and local guides
To make the most of your vacation to Lalitpur, consider hiring a local guide who can provide insights into the city's history and culture. Local guides offer a lot of knowledge and can enhance your experience by providing context and insider information. In addition, public transportation can be an exciting method to see the local way of life and mingle with the friendly residents. Engaging with the community and receiving recommendations from locals will further improve your journey.
Safety Tips and Cultural Etiquette
As with any trip location, it's important to emphasize safety and respect local customs and traditions while visiting Lalitpur. By following a few principles, tourists can assure a safe and culturally sensitive experience.
Respect for local norms and traditions
Lalitpur has a rich cultural legacy, and it's crucial to respect local customs and traditions. Dress modestly, especially while visiting religious locations, and be careful of your behavior in sacred areas. Remove your shoes before entering temples and monasteries, and ask for permission before taking images of people or holy artifacts. Respectful behavior encourages healthy encounters and helps preserve the cultural integrity of the community.
Dress code and behavior in religious sites
When visiting religious places in Lalitpur, it's vital to dress appropriately and follow specific behavioral conventions. Both men and women should avoid wearing exposing attire and cover their shoulders and knees. Be careful of your behaviors and maintain a courteous and quiet manner, especially during prayer or meditation sessions. I will recommend you to watch and follow the lead of the locals to have a happy encounter.
Personal safety and precautions
Lalitpur, like any other tourism site, demands travelers to adopt basic safety precautions. Be mindful with your things and avoid displaying precious stuff in busy locations. Stay aware of your surroundings, especially at crowded markets and public transportation hubs. It's also wise to carry a few copies of crucial documents, such as your passport and travel insurance, and to maintain emergency contact numbers ready.
Responsible tourism practices
Minimize your impact on the environment by avoiding littering and disposing of waste appropriately. Support local businesses and craftsmen by purchasing locally manufactured products and crafts. Respect the local communities and their way of life by requesting permission before entering private properties or engaging in any activity that may interrupt their daily routines.
Shopping in Lalitpur
Lalitpur provides a dynamic retail scene, with bustling markets and traditional handicraft shops where travelers can discover unique gifts and original Nepali products.
Local markets and shopping districts
Lalitpur is peppered with local marketplaces and retail districts that offer a wide selection of goods. Places like Mangal Bazaar, Kupondole, and Jawalakhel are popular for their colorful markets where visitors may browse among stalls selling anything from clothing and accessories to handicrafts and artwork.
Traditional crafts and souvenirs
Lalitpur is famous for its traditional crafts, and visitors can find a wealth of handmade gifts and artworks. So, From delicately carved wooden masks and statues to wonderfully created metalwork and pottery, there's something to suit every taste. Thangka artwork, Buddhist prayer flags, and handcrafted fabrics are other popular selections.
Bargaining tips and recommended purchases
Bargaining is a frequent practice in Lalitpur's markets, and visitors can polish their negotiation skills to acquire the best discounts. When bargaining, it's crucial to be polite, have a friendly approach, and respect the vendor. Start with a lesser price and progressively bargain to reach a mutually acceptable sum. Popular purchases in Lalitpur include traditional handicrafts, pashmina shawls, handmade jewelry, and spices. Remember to check the quality and legitimacy of the products before making a purchase.
Best Time to Visit Lalitpur
You can visit Lalitpur throughout the year, although the best time to visit depends on personal preferences and weather conditions.
Weather conditions
Lalitpur experiences a temperate climate, with warm summers and pleasant winters. Moreover, The months of October to December and March to May are the finest periods to visit as the weather is nice, with bright skies and reasonable temperatures. These months also overlap with various festivals and cultural events, allowing an opportunity to experience the city's vivid celebrations. However, it's worth mentioning that Lalitpur can get congested during peak tourist seasons, and rates may be higher.
Avoiding peak tourist seasons
If you prefer peaceful locations and lesser pricing, consider visiting Lalitpur during the off-peak seasons. The months of June through September attract less travelers, and lodgings may offer cheaper rates. However, be ready for periodic rain showers throughout the monsoon season. Traveling during the shoulder seasons of February and November might also be a nice alternative, since the weather is still favorable, and tourist crowds are somewhat lighter.
Conclusion
Lalitpur is a hidden gem waiting for your visit.. Whether you're charmed by old architecture, intrigued by traditional arts and crafts, or seeking a spiritual retreat, Lalitpur has plenty to offer. By dipping yourself in the city's customs, connecting with the locals, and respecting the cultural legacy, you can build lasting experiences and leave with a deeper understanding for Lalitpur's unique charm. So, Plan your visit to this fascinating city and embark on a journey of exploration, where old traditions meet modern wonders.
FAQs
1.Is Lalitpur safe for tourists?
Lalitpur generally safe for tourists. However, it's necessary to take caution and observe basic safety procedures.
2. How do I travel to Lalitpur from Kathmandu?
Lalitpur is located just a few kilometers away from Kathmandu, making it conveniently accessible. In Addition, The travel takes around 30 minutes, depending on the traffic circumstances.
3. Are there any accommodations accessible in Lalitpur for budget travelers?
Yes, Lalitpur offers a range of lodgings to suit different budgets.
4. Can I visit Lalitpur as a day trip from Kathmandu?
Yes, you can visit Lalitpur as a day excursion from Kathmandu. Also, The city is just a short distance away, and you can see its key attractions, like as Durbar Square and the Patan Museum, within a day.
5. Are there any walking or hiking opportunities in Lalitpur?
While Lalitpur itself does not provide significant trekking routes, it serves as a convenient base for visiting local hiking trails and nature hikes.